As I'm typing this post, many of my peers and friends are enjoying the SHRM11 Annual Conference.  Yes, I am jealous because I always enjoy being with others who share my passion of HR !!  The tweets that are flying under the #SHRM11 hashtag are great to read, but they lack in that personal experience.  Ah, well, maybe next year . . .
The question I want to pose to the 14,000+ HR pros who have gathered at SHRM11 is  . . . Will it Make a Difference?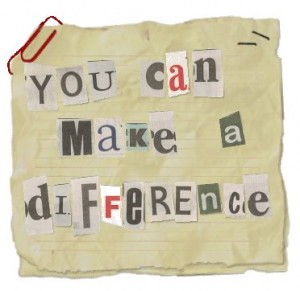 Will attending the largest gathering of those in your profession change how you approach HR when you return to your various workplaces?  When the lights and sites of Las Vegas dissapate, will you be making more of an impact in HR, or will you go back to the norms and ways you are following today?
I hope it transforms you !!  You can't miss the chance to attend events like this and not come away with great things like new contacts, a broader vision of what HR offers, a new way to tilt the windmills that face you on a daily basis !!  Don't just get enamored by the great keynotes, the great vendor events and the endless piles of swag you'll take home from the Exhibit Hall.
Use this time away from the office this week to come back energized, enthusiastic and willing to move your company forward !!
If people don't do this, we will continue to fight a stereotype that I personally heard this week from a question I posted on Focus.com regarding development vs. training.  A person responded that HR has to first "get it's act together" before focusing on either topic.  I responded to this person and was pretty pointed that I didn't appreciate his stance on our field.  He's entitled to say what he'd like, but it eats at me that anyone continues to think that HR doesn't "get it."
So, don't disappoint me you 14,000+ HR folks attending SHRM11 !!  I know you'll have a wonderful time, meet and catch up with wonderful peers . . . just remember to come back and make a difference personally, professionally and for HR as a whole !! I can't wait to see what you'll do !!