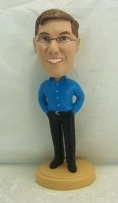 If you knew me and saw my office, you'd hear my iPod blaring and see my lava lamp bubbling next to my Magic 8 Ball and the sword on my wall. I also just got a bobble head made of myself! (a gift from a vendor) I only wish it was a tie dye shirt versus a blue oxford!
I'm passionate about everything I do. Honestly. I think passion and genuinely believing in people makes HR great! I'm trying my best to connect the greater HR community to social media forums, and more importantly, to each other.
You'll find that I'm very intentional.  So, I hope you join me and we get to meet each other in person and you'll see I'm a bit taller than the bobblehead . . .