My wife and I are following a typical pattern that happens once your kids grow up and move out on their own. We've been in our home since 1991 and I'm very fond of it. I love the neighborhood, our yard and the house itself. Debbie and I were chatting and she said, "It's time we either moved and downsized (the typical pattern) or remodel and update." After some consideration of both options, we chose to remodel.
So, we're going to update our kitchen and our family room. This is a major undertaking because it means we'll be "living" in our basement for 6 to 8 weeks IF everything stays on schedule AND there are no surprises. Are you someone who watches the home improvement shows on HGTV? We are. Now, I know that it's television and I'm sure things are staged and filmed in such a way to keep your attention, but it seems that some unknown challenge pops up that no one expected.
This past Saturday, we had our contractor start the work at hand by tearing down the drywall ceiling in our kitchen. Our house was built in 1977 and there are many lingering and dated features such as a stamped ceiling. The two young men made quick work of their task and had the ceiling down and cleaned up in about two hours. When they finished, their dad who leads this family owned business, shared with me what they found.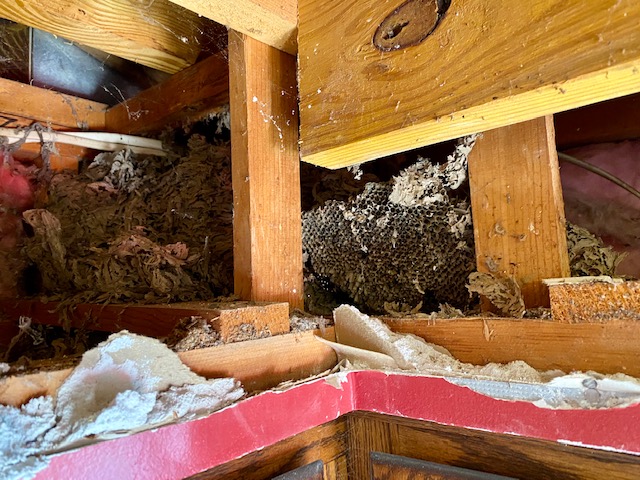 The ceiling is filled with HVAC ducts, various pipes for plumbing and electrical components. We're trying to see if we can relocate things to get the ceiling raised to match the rest of the house. As he was walking me through everything, he casually remarked, "Oh yeah, you have a large dormant hornets nest that we found in the soffit." He, and the boys, didn't seem fazed in the least. I'm sure they've seen all types of things. This was just like the HGTV shows !!
As with most things, finding the hidden hornets nest, reminded me of HR. Based on the size of what was uncovered, the hornets have been nestled in our wall for quite some time. We never have seen any hornets in the house or flying around. That didn't make the discovery any less disturbing though.
In HR we have similar experiences. Hornets nests are well hidden and disguised within the mix of work environments. You may hear the buzz of something going on, but you're not sure where the nest exists. A hornet or two may escape and sting you, but you don't think a bigger problem could be present. When you do find the nest, chances are a swarm happens and a full-on attack occurs !! This isn't good because your natural reaction is to overreact just to get the hornets off you. This is when senseless knee jerk policies and programs come to life.
You can help prevent the construction of hornets nests by two actions that may seem simple. They are, but the practice is not as easy.
Be Out with Your Employees
This isn't "new", but we find more excuses to avoid getting out among our people than we do in putting in intentional time to do this. The more you are out with the "hornets", the more you'll be in the know. People will be less likely to sting others when they know their HR person genuinely wants to know who they are and what's going on in their lives. Stop feeling you are handcuffed by your work. People need to be your focus all the time, not in just reacting to situations.
Listen to Hear, Not to Solve
We are impatient. It doesn't matter what role you fill or level in which you work. There is an invisible pull of time that keeps us from having meaningful conversations with others. Once we talk to people we tend to come up with a solution in about three words before any full message is even communicated. The majority of people just want to be heard. That's all. They're not looking for you to solve or fix them. Taking this approach will relieve so many potential nesting activities that it's worth trying. You'll be pleased when you do !!
So, I'm calling a professional exterminator to come to my house to remove our nest. He is sure to have expertise I don't. Hopefully, he'll also be able to find the source of where the critters came in my house. I'm hoping we don't encounter any more surprises during our remodel. We'll have to wait and see !!