I remember moving to Ada, Ohio in 1976. It was the bicentennial in America and everything was adorned in red, white and blue the entire year. I was going into the 7th grade which is just an awful transition year no matter what you do. On top of this, I had a new stepfather (who turned out to be an amazing human), moved into a new house, a new town . . . and a new school.
I don't know if you remember what it was like in 7th grade, but EVERYTHING was awkward and you felt that every action you took was watched, judged and commented on. The school in Ada, Ohio was small. Note – I said "school" – singular. The entire school system of Kindergarten through 12th grade was in one building. Every school-age child in the town and the ones from the country homes around the village made the trek to the same building each day.
Most of the kids in my class had already been classmates and friends for seven years before I even arrived. Did I mention that I was very tall and geeky? That helped as well. On my first day, I actually got lost in one of the three hallways in the school. A teacher was kind enough to help me get started, but I was soon labeled as the tall, geeky new kid who was crying in the hallway.
The transition to meet new people, make friends and learn the social ropes of my new environment was bumpy. I was extroverted even then, but that didn't make it easy. I didn't know the established social norms or groups. I just wanted to be accepted and fit it. I didn't want to be left out. It took the better part of the first half of the year to make my way through this jungle of social pressure. I had to join clubs, teams and slowly meet others who turned out to be fantastic people.
The pressure of comparison was immense. You never knew how to navigate through the minefield of what to wear, what to say, who to hang out with and what to join. There were tons of days of missteps filled with those who were mean, superficial and those who reveled in misdirecting me.
That was when I was 13. Not much has changed in humanity. We are so comparative and judgemental as a society that it's no wonder people struggle. This is true at work, in our communities and on social media. We're more concerned about how others view us because that desire to be connected and "fit in" is so powerful. We still are so critical about where people live, what job/profession they hold, and what they post/say on forums.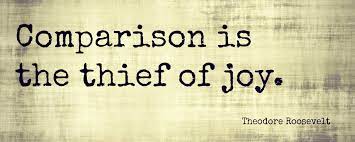 We have forsaken the art of conversation and discussion in the pursuit of likes, follows, and retweets. We live out part of our lives in a quasi-public way without seeing if the images we see truly encapsulate who people are completely. Add on top of that how many times people still enter a "new" environment like a job, a neighborhood, a church, a civic group, etc. We live in a sea of comparison and it's exhausting.
Let's look back to that time in 7th grade . . .
I didn't enjoy trying to figure this out on my own and took note of how hard it was to be new. I made sure that whenever any other kids were new I did my best to help them get settled and connected. I didn't want them to go through what I did. It was foundational to how I have tried to interact with people ever since.
I would much rather get to know you for who YOU are. I would like to know all of the intricacies of what makes you unique. The more I know, and that you're willing to share, helps me think of ways to connect you with other great folks. I intentionally try to not be comparative. I don't want to have my joy stolen.
How would you approach work, social media and interpersonal interactions if you enjoyed what you heard and learned? How would new hires feel if you went past the motions of onboarding and took more time to make sure people were anchored? What would our neighborhoods and communities look like if we were consistently checking in on each other just because?
I know life would be better for most. This week compare less and connect more.