A few weeks ago, my wife and I were able to get out on the town and catch a live show. It was magnificent !! To be able to get to see live entertainment would have been wonderful enough, but on top of that we were able to laugh for almost two straight hours. We went to see a comedy improv show featuring two of the regular cast members of the show Whose Line is it Anyway? – Colin Mochrie and Brad Sherwood.
If you're not familiar with the TV show, it's all improv comedy. They come to the stage with some general ideas of the scenes they are going to play, but they rely on the audience for suggestions and clues to character and direction. They have incredible skill because even the most outrageous suggestions are easily woven into their work without missing a beat. It's a wonderful art form. I sat in the audience completely captured by every moment, shift and adaptation with what seemed to be absolutely incongruent fragments of ideas as they all came together.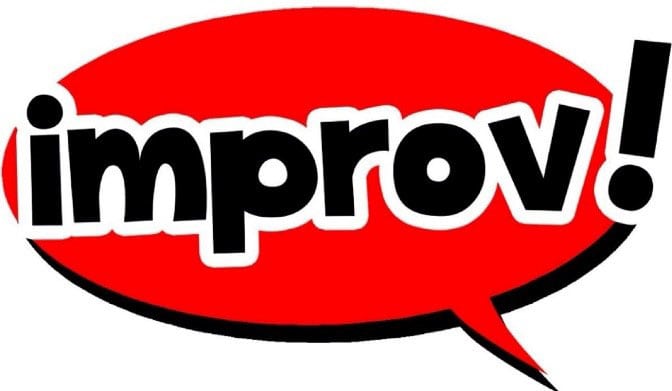 Of course, it reminded me of HR !! I don't know if we get to have nearly as much laughter as I did at the show, but every day we're faced with the unknown. To me, this is what makes the profession so wonderful and attractive. Not knowing what will come next is invigorating. It really is. In fact, because we get the privilege of working with people, our days can't be predictable. That's because each person is unique and sees things through a lens that is linked specifically to them.
Ironically, we complain about this. We want to have everyone be the same. We long for the same behaviors, the same reactions and that everyone would just "stay in line." We believe the myth that if this is how working with people was, then HR would be much easier. However, it would also be dull and lifeless.
We were meant to be improv artists in HR !! Think of it. Each day you're given just a few snippets of a situation and then you have to assess, create and act to make everything "come together." Isn't that fantastic ??!! When you do this, you'll see that you have an innate ability to work with each person for who they are instead of trying to make them conform to a listless script.
So, this week instead of trying to make everything fit into a predictable pattern that can't truly exist, step into your reality and get ready to improvise. It's far more natural and even – entertaining !!