This past weekend I was able to enjoy a great birthday gift. My grown kids know me so well, and they pulled their funds together to get me tickets to see a Xavier University basketball game. Ever since I moved to the Cincinnati area in the mid-'80s, I've followed and been a fan of, Xavier basketball. The other cool aspect of this incredible gift was that it was an away game against Butler University which is in Indianapolis where my daughter now lives. So, we got to go to the game together. My son lives in the San Diego area and it would have been even greater to have him there, but he couldn't make it.
If you've never been to Butler University, they play in historic Hinkle Fieldhouse where part of the iconic movie, Hoosiers, was filmed. Walking into this arena was amazing in its own right. I've always been the fan who gets to games early and I stay until the very end. I have indoctrinated my kids with this expectation, and they enjoy doing this as well. My daughter and I sat in our seats in a predominantly empty stadium taking in all of the sites. Slowly, the arena began to fill up, and seats were becoming occupied. You always wonder who's going to sit next to you, or if the seats next to you will remain open giving you a little more room to not feel cramped.
As I looked to my right, I saw a frail, elderly couple come into our row with a middle-aged couple. As they worked slowly toward their seats, the older gentleman leans down to me with an extended hand and says, "Hi there !! I'm Chip." I know he saw my immense smile as I shook his hand and replied, "Hi there !! I'm Steve."
He settled into his seat and then leaned over. He saw my Xavier hat and sweatshirt and wryly he stated, "Steve, just want you to know I won't be rooting for your team tonight." I warmly replied, "That's okay Chip. I'm not going to be cheering for yours either." He chuckled and we started a conversation. He asked if I was from Indianapolis and if I was with my daughter. He told me about his attending every game he could and that he wished they would play better. He was incredibly welcoming and we talked as if we'd known each other for years. He was very approachable and naturally comfortable with me even though we had never met.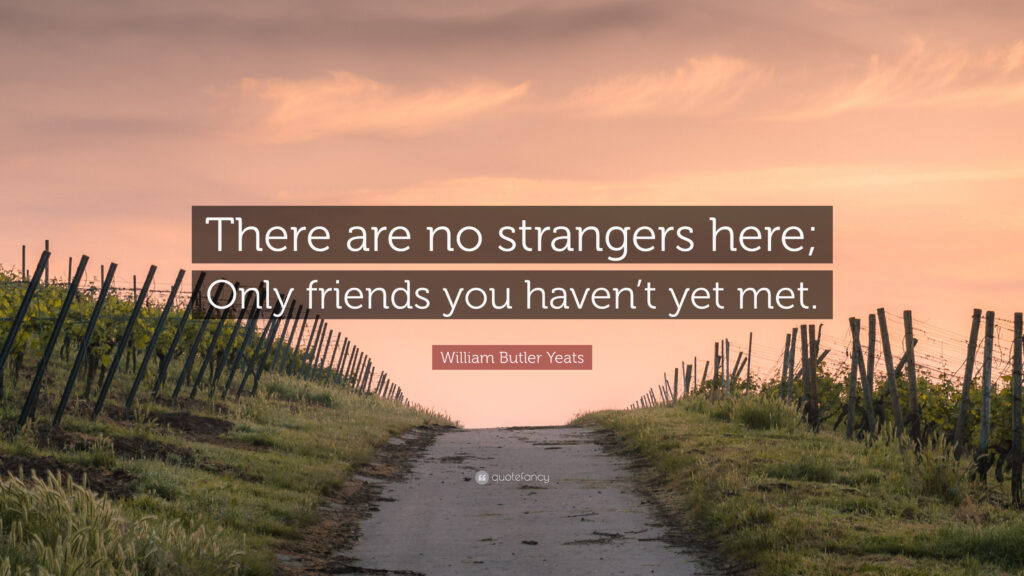 He didn't view this encounter as something odd or forced. He genuinely wanted to connect and make sure that I enjoyed my time visiting "his" school. We talked throughout the entire game gently ribbing each other about the plays, the fouls, the crowd, the cheerleaders and the overall experience. It was magical. I lost my Dad just over a year ago and it was as if I was sitting with him one more time. It couldn't have been better. We said "Goodbye" to each other at the very end of the game even though Xavier ended up with the win over his beloved Butler Bulldogs.
I thoroughly enjoyed Chip and was touched that he didn't see me as a stranger. He would have greeted whoever was seated next to him. I'm sure of it. He wasn't awkward or too forward. To him, it was the most natural interaction possible. It was honestly refreshing to meet Chip and have such a memorable time with him. I wouldn't have classified him as an extrovert. He was purely someone who felt that it was better to know who was next to him.
It reminded me how people have an innate need to connect and belong. We want to share our lives together and not be strangers. Too often we put up invisible barriers or do our best to avoid each other. I know it may seem a bit naive or old-fashioned to be so open to meeting others as Chip did. However, I'd beg to disagree. I think it's heartwarming and missing in today's society.
I may never cross paths with Chip again in this life, but he reminded me to be open and willing to extend a greeting to those around me. It is something I plan to do on a regular basis. No strangers. Just new connections.