Do you remember when you when you were young and you'd have story time? I used to love it when my mom would read stories to me, and I loved doing it with my kids as well. I'm also old enough to remember the Bookmobile !! It was this giant converted RV/bus that would come to our town when I grew up in rural Ohio. The bookmobile was a mobile library where you could browse and check out books to read.
People love stories !! In fact, the history of every society throughout time survived by people verbally sharing stories until someone invented writing and paper. Even with this, people wrote stories down with the intent that they would be shared and not just written.
Ironically, it seems that now that we have technology which allows us to communicate instantly and incessantly, we've stopped sharing. We haven't stopped writing or producing content in the least. The truth is that we are surrounded by countless blogs on a daily basis. However, the focus seems to be that people are just writing and posting their own content. Then it stops.
I don't understand this, and I'll be honest, I feel that my approach runs contrary to the norm. I think that great content (stories) needs to be shared with others. I love to see the perspectives and viewpoints of other people because I learn from them. My question is – How can others learn from this great content if you're only willing to share only your own work?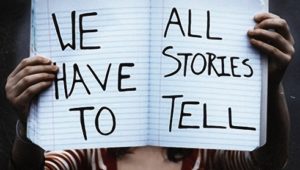 Who's going to curate all of these great stories and share them? The Bookmobile worked because it brought books directly to people where they lived. We have an opportunity to do the same thing by sharing blogs on social media platforms. We can bring the great stories being produced directly to people around the world with the click of a button. It's an incredible opportunity to make sure that many people learn on an on-going basis.
Now, I've had this discussion with others and I get reasons from them about why they don't share other's work.  Some say it's because their content helps them generate revenue or they have sponsors. I think that's great, but there's so much room out here for new content and ideas that you're not impeding on others or losing sales by sharing the work of other people. You just aren't.
I've also heard that sharing the blogs of other people takes too much time. That seems odd to me because it takes less than 30 seconds to share a blog and far more time to write and produce one. Trust me – if you have time to create, you have time to share.
This week I encourage you to start a new habit. When you hear or read a great story, share it. Don't just enjoy it and let it sit. Think how much more information could be sent all over the world and get to HR practitioners and business people who could benefit from something you read.
From now on . . . share stories.