This past week you may have heard me laughing so loud from the great thing that happened at our offices. Seriously. I couldn't control myself and it was fantastic.
You see, working for a restaurant company, our Team Members have been present and essential throughout the entire pandemic. We took every safety precaution we could and they pulled through in a magnificent way. We honestly wouldn't be where we are today without them. (That's not a new reality by the way. Our team members are the reason we succeed all the time.)
Our corporate office went through the cycle of fully remote, partially remote, hybrid and then in person. We have always had a flexible approach to work so we don't have a policy. Instead, we have an expectation – Wherever you are, do your work. As things have changed over time and vaccinations have been available, we've seen more people choose to be back in person.
An adjoining department to HR is our operations, communications, and training group. Two of my co-workers had put up a plexiglass barrier to make sure they were safe in the office during all that had been going on. With things getting back to "normal", I stopped by to visit (as I do every day) and made a quick side comment that it was okay to move the barrier if they wanted to. This week they moved it and put it up on top of a file cabinet. It took me by surprise and I commented how I loved where they put it.
Without blinking an eye or missing a beat, they stated, "It's our window into HR." I thought that was spectacular and told them how much I loved it. I happened to step out for a late lunch and got a text from them asking if I was coming back. If I was, could I come back and visit again. I was intrigued and hurried back.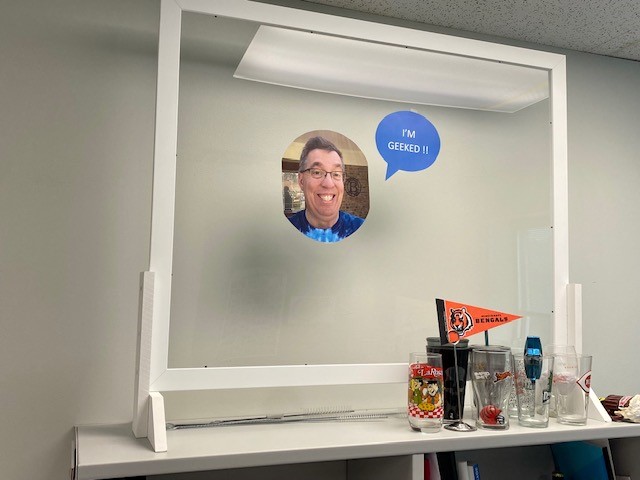 When I turned the corner into their department, I lost it and the laughter ensued. Here's the evidence . . .
They decorated the window into HR and I was touched. It was so personal and showed that we had a great relationship. I'm grateful for that. My team and their team work together often and it's a joy to work with them. I asked them to keep it up and they reassured me they would.
Their fun office addition did make me think. Do people in your company have a window into HR? When I hear stories from employees I would question whether most truly do. I don't think that should be the case.
We should have learned over this past 15+ months that everything at work is people-related. It always has been, but now people have acknowledged this truth. I have a feeling that most people's "window" into our world is when an issue arises. Unfortunately, that may be the only time they interact with us. We should stop complaining that this is how we're viewed and change what they see and experience.
I would love the window into HR to become where people look forward to interacting with us and that we intentionally reach out to everyone on a regular basis. We have the ability to foster and build our company's cultures, elevate the performance of people and be the connector to pull together departments and levels of the organization so there is more cohesiveness. I don't think this is out of reach or Utopian. I think it's a choice.
This week get some cleaner out and see what your window looks like. Make sure that people not only have a view into who you are and what you do, but that they get to know you and work with you on purpose. Let people in. Remove the blinds and include them in the great work you do in making your company a people-first environment !!