I wanted to take my #AdventBlogs post submission and share it this week. I love all that Gary Cookson does with the series and hope you connect with him and all of the authors in the series !! You can find them on his site – Epic HR.
_____________________________________
The third day of our series and the first weekend post for us, and we continue to go big with our posts. So many people have told me that they are midway through writing a post that I know the series will be fantastic, though as of the time of writing (20 November) I only have a small number of posts in. By the time you read this, I'll have plenty more, but there is still time to send your submission in if you are inspired by our theme or what you have read so far.
Today at home is another of our Christmas trips. Tonight, we are going on a magical Christmas boat trip across an enchanted lake (strangely, one I swim in during the summer) to visit the Elves and of course Santa Claus. Really looking forward to it – the kids are so excited, and we are definitely at peak Christmas this year.
Today's post is from Steve Browne. Yes, THE Steve Browne. You are already connected with Steve on Twitter (@sbrownehr) and LinkedIn and probably on other social media – and to be honest, who isn't? If you're not, you should be. Steve has an online presence beyond almost all in HR, and whilst I could share a bio of his, it wouldn't do him justice. He's the Chief People Officer at LaRosa's. Steve and I have interacted lots as part of the #HRPubQuiz community and he's another I know well. He is one of the nicest people you'll ever want to meet.
Over to Steve:
---
One of the top 10 highlights of my life was traveling to the UK with my wife Debbie in 2019. We relied on the connections I had made on social media to see the country through the experiences and eyes of my friends who lived in the UK. Each person we met was so comfortable and welcoming as if we'd been friends forever even though we had just really encountered each other in person for the first time.
We have fond memories of every interaction we had because we learned about some amazing humans and their lives. One of my personal highlights came when my dear friend, Michael Carty, traveled for hours by train to have a coffee, chat and walk through Soho. Michael and I are giant music freaks and have talked about various artists and songs for years. So, as we meandered through Soho he pointed out where Sir Paul McCartney had an office, where the band Oasis took pictures for an album cover and a phone booth.
What's so unique about a phone booth in London ?? It was the location for the album cover of David Bowie's essential album – The Rise and Fall of Ziggy Stardust and the Spiders from Mars. I was gobsmacked !! (my fave learned term while in the UK.) David Bowie has always been a favourite artist of mine not only for his amazing catalogue of music but also for how he was a chameleon throughout his entire career.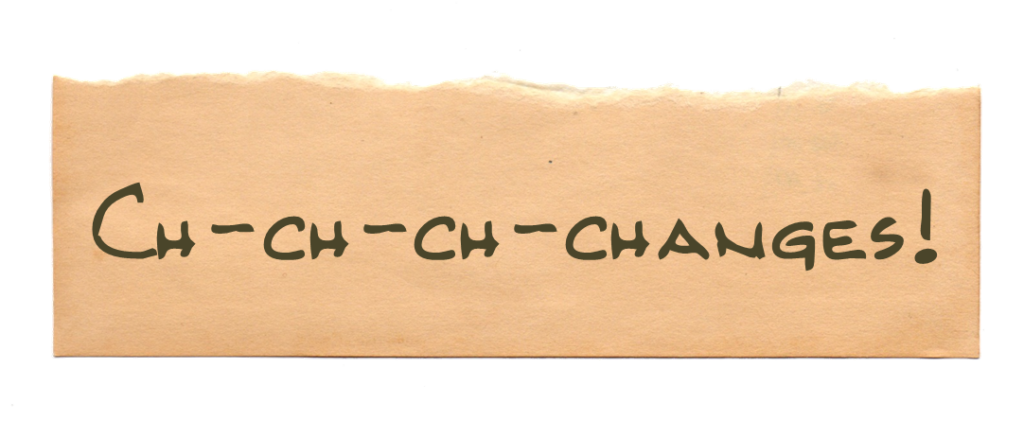 Bowie didn't wait for change to affect him. He made change happen. He was ahead of his time so much so that he often made others around him uncomfortable. He wasn't willing to follow the norms of artistry, rock and roll or image. He refused to be another musician who covered the songs of other artists in order to launch himself onto the scene. He was comfortable with who he was and set the standard he was going to express.
This is such a refreshing way to approach the reality of change. Too often we allow the circumstances of life to hit us first and we're "forced" to react and respond. When change happens TO us, we resist. It's natural and we don't like it. When people say they enjoy change, I'm sceptical because few of us are as bold and intentional as Mr. Bowie was.
I've tried to be more like Bowie when it comes to changes in my life personally and professionally. I wasn't like this when I started my career, but I certainly am now. When you choose to define the parameters of change around you, then it lights a path for others to see. They tend to embrace changes when they're revealed to them first.
Let me give you an example.
I LOVE connecting with people and always have. I believe that each person I meet has something amazing and unique about them. This alone makes me want to learn who they are, what they believe and how they view life. It fascinates me. I have never been hesitant to reach out and see how we could get to know each other better. As a result, I've been able to develop relationships and friendships around the world. I know that this approach is not typical, and many people are reluctant to jump into any meaningful connection for a variety of reasons. No judgment and no expectations from my side on this. I'm well aware of how much of an outlier I am when it comes to this.
What keeps me grounded though, is that I am not a very comparative person. I want to know YOU for YOU and that's it. I don't look at any connection as someone to pit against another person in some illusion of ranking or placing one relationship ahead of another. This is unnerving for most because the norm is to judge, compare and decide if others are truly worth their time.
You see, every person is worth my time. Every. Single. One. That is the only facet in my life that never changes. Relationships, unfortunately, do change. People flow in and out of my life more than I wish they would. This may happen because of one misconstrued interaction, a difference in beliefs or the challenge of how we choose to use our time. Relationships take time. Invested time.
I'm bummed when people fade away from my life. It's not a change I enjoy. I try to rekindle things hoping there are still embers willing to jump back to a burning flame. It happens in some instances, but not all the time. All things change when it comes to people in our lives.
My hope is this. I want people to know there is at least one person who's willing to see them, listen to them, value them and learn from them on this planet – even if it's for a brief moment or period of time. It's my way of being Bowie. I choose to drive change when it comes to people.
So, if you see a tall, geeky person who is reaching out to get to know you, be calm. It's my inner Ziggy willing to get to know you. It's the ch-ch-ch-change I hope to see everyone embrace !!
---
I love reading Steve's blogs, on his own site and his contributions to the #AdventBlogs series each year. He puts so much energy into his writing, and the creativity comes through each time. I like the theme he is exploring here though.
He is right to lament how relationships change. Sometimes they need to, sometimes they do without us wanting to. But they do change. He is also right though that there are some constants, even though our theme is "All things change" perhaps sometimes there are fixed points in time and space (to coin a Doctor Who phrase). Maybe Steve himself is one of those fixed points in time and space – he won't change his belief that you are worth his time.
We see you too, Steve.
Till next time…
Gary