Other than being married, the greatest joy I have in life is the gift of being a father !!  You've seen me write about both of my kids, Melanie (18 and soon heading off to college) and Josh (14 and planning to take over the world).  I've even written about my biological father who was a decorated veteran of the Vietnam War.  Today, however, I'm writing about my dad.
You see, I hail from the Center of the Universe which is also known as the Village of Ada, Ohio.  This is where my brother and I grew up during our formative Jr. High and Sr. High years and where my parents still reside.  This story starts about one year before we moved to this incredible mecca !!
My mother is in the 1st wing of the "Mothers Hall of Fame" !!  That is not an exaggeration.  ANYONE who has met my mom would say this within minutes of meeting her.  Since I was the "man of the house" since the age of four, I was very protective of my mom and didn't quite get why she had to meet someone else. Thankfully, I wasn't really in charge and the good Lord brought Don into my mom's life.  He seemed cool enough, but I didn't want him getting "too close" to my mom.
One night after they had been "courting" (that's what they called it – not me), he came to the room where my brother and I stayed and we had the following conversation:
Don – "Boys, I wanted to talk to you and ask you something."
Steve – "Sure.  What do you want to tell us?" (I didn't allow my younger brother to speak because I was – and still am – the firstborn)
Don – "Well, your mom and I have decided to get married."
(My brother and I were stunned and shocked.  How could she do this?  We didn't need him !!  He went on . . .)
Don – "Well, boys, I just wanted to ask.  When we're married, do you want to call me 'Dad' or 'Don' ??"
(Get ready for it.  Here comes the most calloused response in the history of families !!)
Steve – "We'll call you 'Don' because you will NEVER be our father !!"
(Did I mention that I was an idiot 13 year old punk?)
Don – "That's fine boys.  Good night."
He didn't put up a fight and was incredibly gracious (as he always has been.)  Later that summer in 1976 during the glitz of the Bicentennial, my brother and I stood in polyester suited glory at my mom and Don's wedding.  We moved to Ada and the rest is history – well, sort of . . .
Don raised my brother Mark and I as if we were his own sons.  He was always fair, structured and showed us amazing things.  He taught us about work ethic, manners, treating women with respect and most of all . . . love mixed with incredible humor !!
The day of my high school graduation, he grabbed me and hugged me and told me he loved me.  He followed that with, "So, when are you moving out?"  Through laughter and tears I embraced him and said, "I love you Dad !!"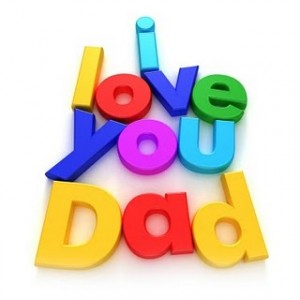 He always had been my "Dad" and now I realized it.  He has been nothing but amazing my whole life with him.  He showed me, and continues to show me, the mantra I live by:
Model the behavior you expect in others.
He's now a grandfather five times over and he comes to most of the grandkids events.  He never missed one event my brother and I were involved in – EVER !!
This week he made sure to let me know that he was retiring at the young age of 70.  I adore my father !!  If I can be half the man he has been for me, then I know that I will have left a grand legacy.
Happy Father's Day to anyone fortunate enough to be a Father.  Never take it lightly for you are leaving a legacy to each and everyone you touch !!