Last week my wife and I were able to do one of our favorite things – go to the theater !! We saw the incredible show – Ain't Too Proud – which chronicles the remarkable career of The Temptations. The moment you see the marquee lit on the stage you can feel tingly anticipation. We were pretty familiar with many of their songs and when the first note hits you were instantly transported back to 1960's Motown.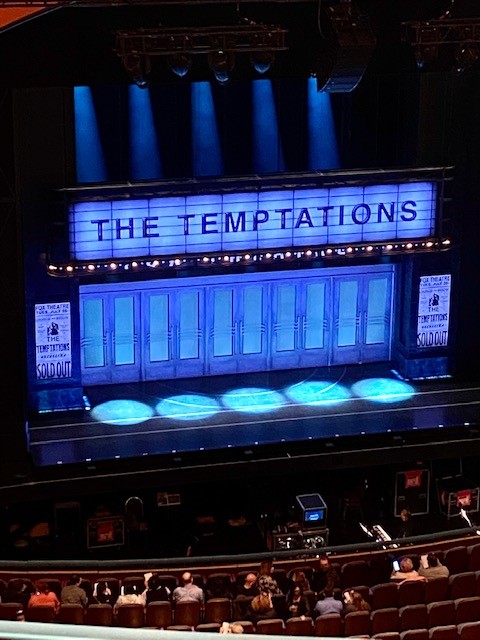 The show is a mix of hit after hit sung beautifully by the cast while also being craftily narrated by the character playing Otis Williams. He is the founder of The Temptations and the only living original member at 80 years young. The group's story is filled with a series of amazing highs as they reached the heights of fame over several decades. They broke barriers and crossed over from being seen only as a black R&B group to becoming one of the all-time best-selling and recognized groups around the world. Their music is timeless and has outlived their heyday.
As magnificent as their success was, they were also plagued and marred by dramatic lows including struggles with egos, infighting, drugs, alcohol and untimely death. The show candidly covers these lows just as much as they did the aspects of success. The destructive behavior of some of the original members led to the difficult decision to ask them to leave the group. When group members were replaced, they experienced the magic of being a Temptation until their humanity crept in and the same set of harmful behaviors started showing in new members as well.
Towards the end of the show, Otis shares that there have been 26 members that have been Temptations over their 60+ years of existence. It's a factual, sobering statement. It's not one of pride and joy. It's more an observation of survival.
Like most things, I see a parallel that applies to HR in my life experiences. When it comes to talent in our organizations, we will often overlook behavior that pulls teams apart if someone is talented "enough." We will suffer through whatever shenanigans they do because they produce results. We need to be honest about this. Leaders will turn the other way and say things like "that's just the way __________(insert name here) is." We excuse detrimental actions without so much as a peep.
Otis Williams did just the opposite. David Ruffin and Eddie Kendricks were once in a lifetime talents as musicians and performers. However, when Ruffin's drug addiction and Kendricks' dissension about the group's direction tried to alter the trajectory, Williams asked them to leave. Think of the courage that took. It was very possible they wouldn't survive the loss of these two originals. Thankfully they did.
It's very challenging when talented team members become "bigger" than the organization. There is no doubting their skill level and contribution, but there is more value in having a collaborative and cohesive culture. ALL people are talented, not only a few. Make sure that you keep consistency in your culture and value the contribution from every person. That has far more longevity than focusing predominantly on the bright shiny stars.
One of The Temptations most stirring hits was "Just My Imagination (Running Away with Me)" As I close, take a listen and see the power and beauty of a group that performs as one. Let's make sure we do the same in our companies !!