I'm a greeter. Always have been since I can remember. I grew up in a small town in Ohio where I saw my mom and dad greet every person by name. When I'd go to school or walk uptown, I would greet almost everyone because that's what you did. If anyone ever drove by, you'd give them a wave whether you knew them or not.
Heading to college, I made sure to dive in to meet my classmates in my dorm and most of my classes if they were willing to let me. When I was a college senior, my friends hated walking to and from class with me because it would take extra time since I'd say "Hi !!" to everyone including their name. Entering the world of work, I tried to incorporate this practice but found that people became more resistant to this. There was this sense that you greeted people IF you had business to do with each other or to be polite. This led to the pit of casually greeting people without really meaning it.
I struggled because I didn't see the point of the drive-by greeting. It was, and still is, vapid and insincere. I could tell people were thinking of other things that were "far more important" than greeting one another. For a while, I was a bit forlorn of the work and adult world being so comfortable with being impersonal. Only for a while. I decided after about a month in my first job to be intentional about greeting once again and I haven't stopped since – 37+ years later.
In fact, I doubled down on this habit. I did all I could to meet folks, remember their name, and then make sure to touch base with them every time our paths crossed at work. I wasn't quite fulfilled so I started volunteering at the Cincinnati Zoo with a group of wonderful humans called the Young Friends of the Zoo. I stepped up to be the chair of the group's primary fundraiser at my first meeting with one catch. I wanted to give an announcement at each meeting about our efforts and then meet everyone who attended. I met my future wife at this group who, by the way, thought it was annoying that I wanted to meet everyone. She would avoid me on purpose, but I wore her down and I'm grateful I did !!
I took my greeting mission to the HR Roundtable I began facilitating 23 years ago. I would stand outside to greet each person who chose to attend get to know them, and thank them for making the time. This transferred to the HR chapter when I started going there and stepped into leadership. I continue to expand my greeting initiative whenever I go to HR conferences locally, regionally, at State events, and of course at the massive Annual Conference.
I've also been greeting at my church over this same time because my bucket is never filled. There's always a new face to meet. What's intriguing is to see people's reactions when they know they're truly noticed and acknowledged and that someone is geeked to see them. It's a joy to make a genuine connection. You don't know how it lands with those I greet, but that doesn't deter me.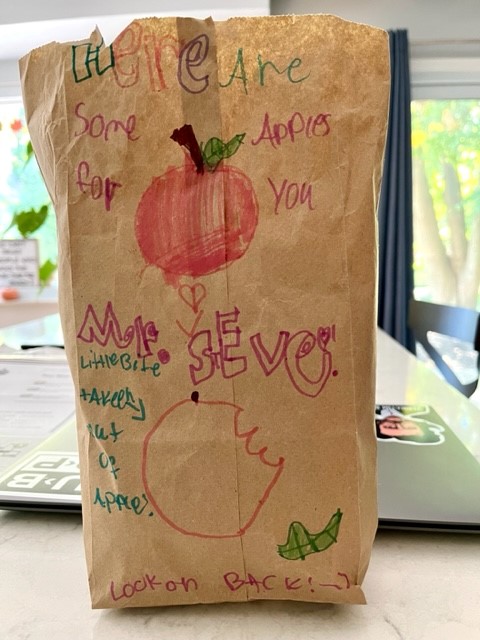 Then, there's this weekend. There's a girl at my church who I've known since she was very young and now she's nearing middle school. Her name is Avalee and she is always bashful and shy when she comes to the door. I make sure she especially gets a greeting !! She's intelligent, a burgeoning swimmer, and has a big heart. She came up to the door and handed me a brown lunch bag that was ornately decorated and bursting at the seams.
"What's this?" I asked. "We went to an apple orchard yesterday, and I picked these for you," she replied. I was speechless. I thanked her as she went past me with her ever-present Mom and Grandmother. I was floored by her simple gesture. I was making sure her family was cordially greeted, and she broke through with an unexpected return.
It's that simple.
We are surrounded by a sea of humanity each and every day. If I had to guess, we either feel people are in the way of the task we have our mind set on or we feel that greeting each other is a polite nuisance. How sad is that?
I know I'm wired this way and I'm not expecting others to mimic my overt sense of wanting to meet every person possible. However, you can slow down and understand that the people around you are there for a reason. Your simple greeting could lead to a loving gesture. It may leave a lasting impression or be one spark of light that is needed to break through just at the right time. Wouldn't that make the world a better place? I know it would and I hope you give it a try !!