This past weekend I was fortunate to be part of a celebration at work. It was a chance to say "Thank You" to a Team Member for an incredible accomplishment. One of our delivery drivers had decided to retire. This may seem like a normal occurrence in the life of a company, but when it happens at our company, it's a big deal !!
This is true because we're an anomaly in the restaurant industry. We have several Team Members who have many years of service which is fantastic. Yes, we have turnover but it's not our focus. Celebrating folks who have 10, 15, 20,25 and more years of service is common.
This retirement celebration, however, set a new standard. You see we've been in business for 62 years and this Team Member has been with us for 55 of those 62 years !! That is ridiculous and phenomenal !! I knew he had been with us for a long time, but I had no idea it was this extensive. He started with us when he was 15 years old and has been taking care of guests for a lifetime – literally.
To get ready for this day, we asked around to see if there was anything we could get to commemorate his retirement. His wife was wonderful and she told us, "He'd like a rocking chair so he can sit on the porch and drink a Coke."
55 years and thousands of hours of service, and he wanted a place to rest and reflect. Epic.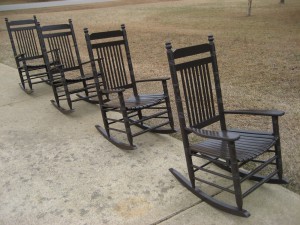 We met at the restaurant where our driver had worked the majority of his time with us and we did our best to make it a surprise. The turnout of family, friends and co-workers was inspiring. So many people couldn't wait to also say "Thank You." As everyone gathered in a party room, we got the jet black rocking chair out of my car and walked through the restaurant. You could hear oohs and aahs as we walked by. I heard "look at that chair !!" and "I wonder who that's for?"
It was so cool to witness. You have no idea how humbling it was to experience this anticipation as to how he'd react. I asked everyone to have a seat, said a few words of thanks and then asked our retiree to say a few words. He stepped up and was visibly moved. Very graciously he said, "I've enjoyed my time here and the people I've worked with. It's been a great family to work for. I appreciate everyone coming out for this. Thank you." That was it. Beautiful.
I asked him to try out the chair for pictures. He sat down, looked up at me and said, "Look at that, it fits just right !!"
Too often we overthink recognition when it comes to our Team Members. We put our focus on programs and not people. Recognition can be broken down into asking what matters to someone. The differentiator in how HR and companies approach this is whether or not you're willing to allow individual requests. This takes more work, but it's worth it.
It's another example of how we complicate and layer HR when it is begging to be simplified. More does not mean better, it just means more. This week break the mold of conformity in recognition and look at the individuals you need to recognize instead.
Who knows? You might need to go out and buy a rocking chair.