Normally, I don't post twice in a week. My "regular" day to compose is Sunday. But, with Christmas Day being Sunday, I won't be posting.  There's a much bigger reason for this that deserves a story . . .
 In 1993, my wife and I had her extended family over for Christmas Eve and were preparing the obligatory feast when my wife exclaimed, "Steve, I think my water just broke !!"  You see, we were expecting our first child who wasn't due until mid-January of 1994.  She asked, "What should we do?"  And, being the ever empathetic husband, I said, "Let's eat !!" – and we did.  We shared our meal with our family, calmed down, and then we headed down the highway to the hospital.
That year in Cincinnati we had snow and ice all over.  Did you know that you can travel without much traffic on a Christmas Eve night even in bad weather?  I think we saw 10 cars in the twenty mile trek we had to the hospital.  During our trip my wife was riding next to me crying.  She didn't want our child to be born on Christmas.  We talked about every bad scenario about how our child would be "cheated" because their birthday was on a holiday.  Odd, that we weren't focusing on the amazing miracle about to happen !!  When we arrived at the hospital, my wife was one of two women who were about to give birth.
Our beautiful daughter, Melanie, waited the night and arrived early Christmas morning !!  It was amazing and something I will never forget or regret.  Here she was five weeks early, and the best Christmas present I will EVER receive !!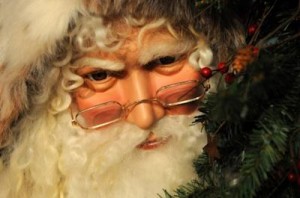 She was cooing and healthy when she was carted down the hall to the nursery.  After giving my wife a kiss for making it through the delivery like a champ, I wandered down the hall to get another glimpse of my daughter.  There was fresh snow on the trees, buildings and streets that I saw in the hallway window as I sauntered down to see her.  It was just like the movies.  And then . . . the miracle.
Looking through the nursery window, I saw my daughter stuffed into a large stocking being held by Santa Claus in a rocking chair.  Tears exploded from my eyes.  I couldn't believe what I saw sitting before me.  Santa looked up at me, smiled, hugged my daughter and waved to me as if to acknowledge the beautiful gift of life that came to us that morning.
I ran down the hall to tell my wife what I just saw.  I ran back to see if I could get a picture, and he was gone.  Of course he was because he was off to do what Santa does for all families and children.
Our "miracle" turns 18 on Sunday.  This stocking baby is now a young woman about to embark on her next stage in life when she leaves our home to attend college in the Fall after graduating in the Spring.  She is amazing and continues to be a blessing to me and all she touches.
I wanted to thank all of you who take the time to read this blog.  I value each one of you and want to wish you, and yours, a blessed Christmas and Holiday season !!  May the coming year be filled with miracles for all of you !!