This past week I was fortunate to present to my home SHRM chapter the Greater Cincinnati HR Association (GCHRA). It was special to me because this is the place where I "grew up" as an HR professional. They provided the laboratory to get to meet peers in the field, learn and develop HR skills and learn to grow in the role as a volunteer leader. To be asked to come back and now present to the chapter was amazing.
Please note that I never take the opportunity of speaking at HR events for granted. It is something that gives me energy because few things in life get me more geeked than being with other HR peers !! I was also eager to try out a new "personal workshop" based on my book – HR on Purpose !! The reason I was eager was that I was trying out a new concept for attendees.
The concept is this – I think attendees at HR events expect the speaker to wave some magic wand through their presentation and give people black and white takeaways. These takeaways will be perfect when used regardless of the industry or how HR is viewed in their organization. This just isn't true. If it was, then we'd all need to hear one presentation from one speaker and then all of our challenges would be solved.
The reason this was framed as a personal workshop is that we discussed topics and concepts, and then everyone took time to write down what mattered to them. Here was the next radical move – no one shared what they wrote down !! No one complained or felt on the spot.
I think that every HR practitioner follows many of the same concepts in their role. However, every company is different. Also, HR has to be pliable and morph into different shapes and sizes because people are unique. We can't keep thinking that the one approach fits all works. It never has and never will. Why ?? Because HR is a kaleidoscope.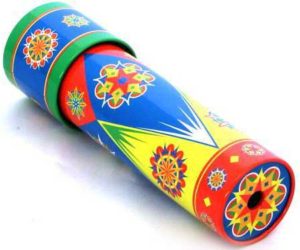 Did you ever have a kaleidoscope as a kid? They are one of the coolest toys because no matter how many times you look through them, the pattern is different. It's a simple toy. Metal tube (the best are made of tin.) Tiny bits of colored plastic enclosed at one end of the tube that move loosely while still being a bit contained. The end of the tube where the colored bits are can be twisted and rotated to make things roll around and give you a new picture. The only other aspect is looking up towards the light so you can catch the different fractals as they move.
This is just how HR is in reality. We need to look to the light (or positive) side of what we do. Then, move things around and we'll see the colorful bits (our people) move, shift and perform to make new pictures and results.
After the workshop, several people came up and shared that they had been looking at HR the same way for years and years. Having some time to hear a different perspective and then write down some things to act upon reenergized them. They left eager to apply something they learned based on what THEY needed !! It's not a novel concept, it's just something we've not done.
Going to HR events, chapter meetings and conferences is essential so that you get your batteries recharged and you also meet, and hang out with, your HR compatriots. The key is to twist your kaleidoscope and no longer go just to be motivated and jacked up by a speaker. Try something new and take notes that work for YOU so that you can continue to grow and thrive in all you do !!
I recommend that you do one more thing. Buy a kaleidoscope for yourself and keep in in your workplace as a reminder to keep HR fresh and colorful all the time. I have one that I look at all the time. It works !!