I've mentioned several times on this blog that I'm a fiercely proud alumni of Ohio University !! It's a phenomenal university that is tucked in the hills of southeast Ohio along the banks of the Hocking River. It has the distinction of being the first university in the State. Those that have attended OU will make sure to let you know that they are NOT from that school in Columbus, Ohio which shall not be named.
I cherish every time I get the chance to visit the campus. It still has the vibe of being a welcoming home for all that pass through. The students oddly look much younger than I remember looking when I attended, but that's to be expected. After graduating and starting my own career and family, I never thought that either of my kids would attend my alma mater. When it came time to make college visits, I told them both that they would visit OU even if they didn't attend. My daughter visited first and liked the campus, but didn't feel the same pull I did when I attended. She attended the University of Indianapolis and earned her Doctorate in Occupational Therapy. She did fine !!
When my son was about to graduate high school, we took the trek across the State to visit OU one more time. I made sure to visit the Bagel Street Deli to make sure he had the experience just in case I never would get to again. Josh surprised me by deciding he would attend Ohio University !! To say I was geeked would not cover how I felt.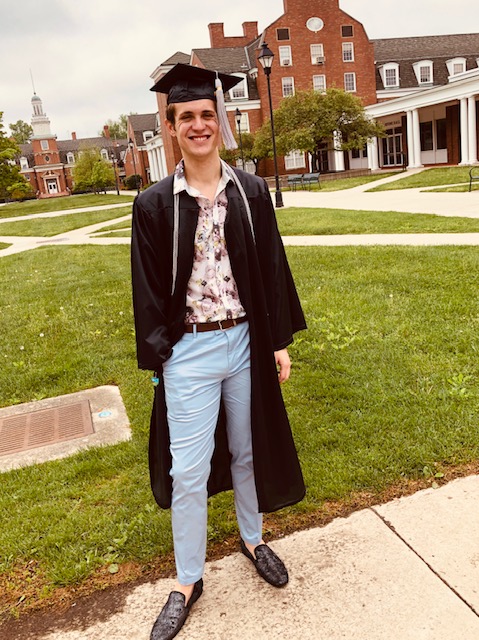 That was four quick years ago. This weekend I had the distinct pleasure to see my son graduate as an OU Bobcat. I sat in the same gymnasium 33 years earlier wondering what would happen next. As soon as I walked into the Convocation Center, tears streamed down my face. The reason for that had little to do with my alma mater and everything to do with my amazing son.
You see, I hoped that he would have an incredible time like I did when I went to OU. His experience was his own and had its various ups and downs as it should. I didn't want him to mimic what I did. I just wanted his college experience to be memorable. It was. Josh was not a big fan of high school. He did well but he couldn't wait to get out. He didn't enjoy many classes and I was wondering how his next academic adventure would go. I had nothing to be concerned about. He graduated Magna Cum Laude and embraced all facets of learning.
After the graduation ceremony, my wife and I spent the entire day with Josh enjoying every moment. We made one last stroll up and down Court Street and made sure to buy one more batch of OU apparel. As the rain started to come, we stopped off at Donkey Coffee and Espresso (the coolest coffee house I've ever been to !!) It was so cool to sit and talk with the young man who started as an unsure teenager four years earlier. We talked about life, politics, his college memories, and it was obvious that he was ready to step out into the next phase of his life.
The fight song for Ohio University starts out with the lyrics "Stand up and cheer, Cheer loud and long for old Ohio . . ." Today I stand up and cheer for my fellow alum, my fellow Bobcat, my son.
It wouldn't be an OU post without the Marching 110 – the most exciting band in the land !! Bobcat proud. Bobcat for life !!