This past week I had the opportunity to travel to Vero Beach, Florida to meet with HR peers at the Treasure Coast HR Association. They were kind enough to gather and let me present a different look at human resources. I cherish any time I get a chance to do this because it gives me an opening to encourage folks who work in the same wonderful industry I do.
I made sure to build in some time to wander in and around Vero Beach for an extra few days. I had never been to the city, and I find it fulfilling to explore and see the areas of the world where I get to speak. I meandered through the shops in the quaint downtown, grabbed lunch at a local sandwich shop, and took a stroll down a boardwalk overlooking the Atlantic Ocean. I made sure to visit other local eateries and a brewery during my visit. The highlight of everything though was a visit to the Vero Beach Museum of Art !!
I do my best to visit art museums in every city I go to. Art fills my soul. To see the expressions of others using various mediums stretches my imagination. The pieces are all interesting in some way. I may not "get" what the artist was trying to capture, but those pieces are intriguing as well. Art isn't something to agree with. It's something to learn from.
I was especially geeked because the museum had a special exhibit of the works of Dutch artist, M.C. Escher. You may not recognize his name, but I guarantee you'd recognize his work. Instead of just walking from piece to piece, I was fortunate to join a tour with a docent who took the time to tell us about Escher and how he created his work. It was fascinating !!
I always assumed that Escher drew his compositions. I was absolutely floored to learn that he actually made prints by using wood cuttings and lithographs. The images that he captured he did backward !! It's hard to grasp because the intricacies and level of detail are mind-blowing. To think he even saw these images in his mind is hard enough to understand. To take those thoughts and then create them in reverse is astonishing. There are no good words and it made me admire his work even more.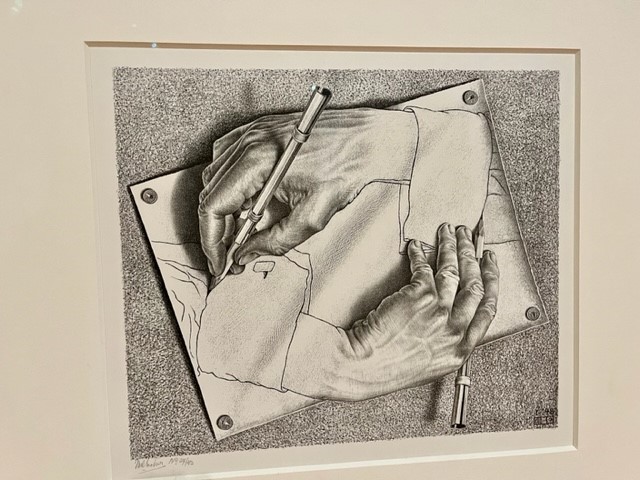 The docent took several minutes at a handful of the 160 works on display to help us look deeply at each one. I found myself falling headlong into the prints and ignoring what was going on around me. Escher didn't consider himself a traditional artist because he felt they focused on beauty. He wanted to bring out "wonder" instead. His earlier work was more conventional while still being amazing capturing the scenery of his time living throughout Italy. As his career progressed, he began to design impossible and infinite works. When you look at them, there is no definite start or finish. They just move eternally.
After the tour ended, I took my time to go back through the exhibition and enjoy every single piece. You see, I think Escher captured the essence of life and work. Each of them are ever-moving, ever-changing continuums. There aren't discernable starting points or conclusions. Once something is accomplished, it's already changing into the next iteration.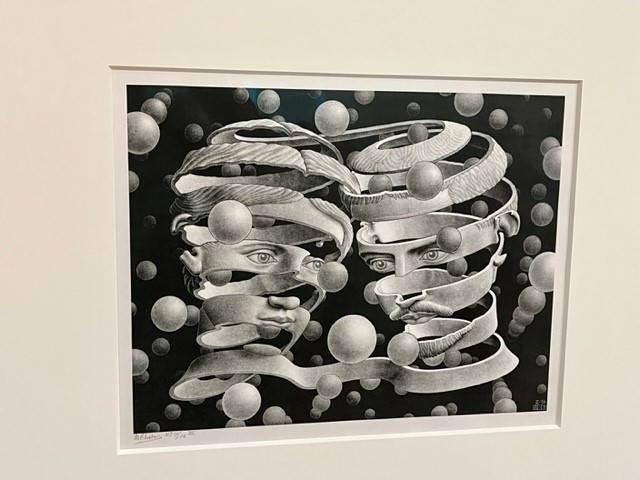 We don't recognize this reality because we strive for absolutes. We want things to have a clear start and a finite end. I understand this because we feel it gives work form and function. However, just like Escher's lithographs and wood cuttings, work is infinite. Even if we try to take a slice out to focus on a portion of what's in front of us, the movement continues in and around us.
I would encourage each of us to approach our days as if we were inserting ourselves inside an Escher work. Jump into the continuum and move freely to see where it takes you. Quit trying to control every moment of your day and see how the flow of everything is happening all around you. You need to believe me that understanding work is infinite will give you more fulfillment than trying to confine the occurrences in your environment.
I'm grateful I did some exploration in beautiful Vero Beach. I found an example of life's continuum in an unexpected place. I think Escher would dig that !!