This month I quietly celebrated a career milestone by passing my 17th anniversary with the same company. I'm grateful beyond words that they took a chance on me so long ago. During my time there, I have been able to grow personally and professionally more than I could ever have imagined.
It started in a very interesting manner though . . .
During their selection process, a peer of mine, who was interviewing for the HR role herself, reached out to me. She told me there was a role she thought I'd be a great fit for. I didn't know she was being considered. She didn't tell me. I sent the company resumes of other HR pros I knew and then asked if I could be considered as well. The gentleman who turned out to be my future boss told me, "We were hoping you'd apply."
My first interview was in a booth in a pizzeria. Kevin asked me how I felt about being in the restaurants and I replied, "Do I even need to go to my desk ??" Evidently, it was the right answer. I came back for a round of second interviews at the corporate office. As I was taken from office to office to meet the various executives, I noticed something. Lava lamps. Many of the offices had them and I started to get giddy.
If you know me at all, I have a handful of quirks. One of them is lava lamps. I have had at least one for over the past 30 years. I dig them and they give me peace because of their simplicity. To see them dotting the offices of people I hoped would be co-workers was a great sign. It was curious though that they were darkened and not doing what they were created for.
I was hired and I brought my ancient, yet reliable, lava lamp with purple goo with me on my first day. Before I even completed the mandatory HR paperwork for new hires, I plugged it in and did something radical . . . I turned it on !!
As people came to visit me in my new place, they noticed the blobs of the lava lamp easily moving up and down. Most of them said, "Cool lamp !!" The ones who had lava lamps in their offices even commented and I shared, "You know, yours can do this too."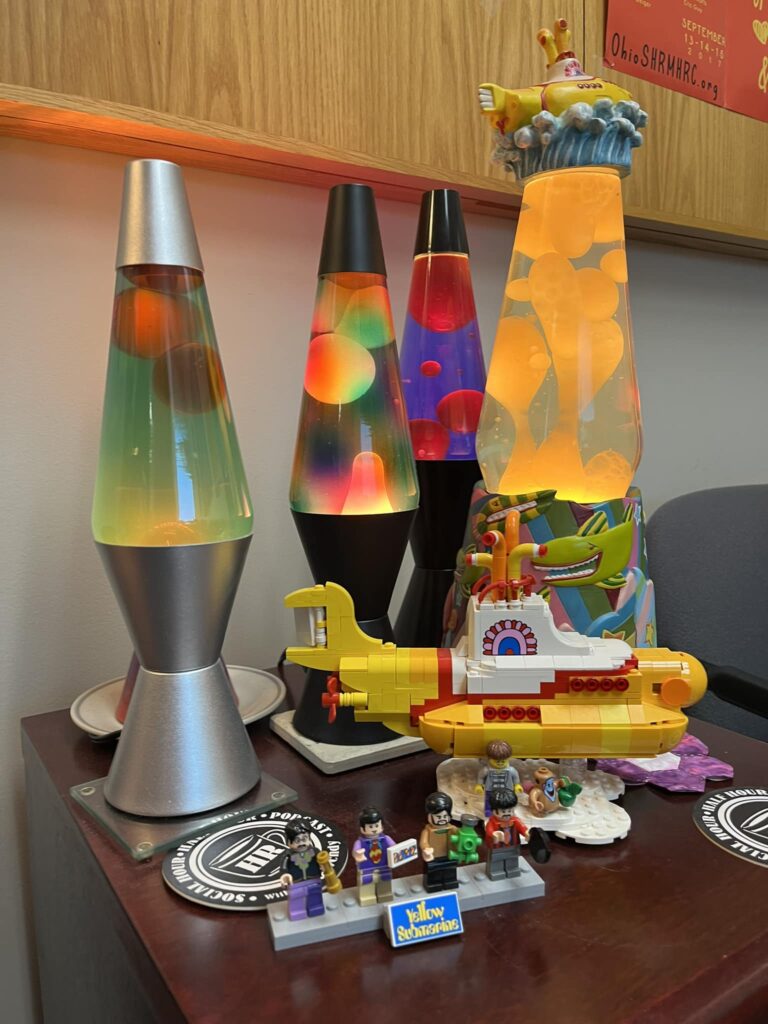 You see, I think lava lamps are reflective of how we see people and what we could do to alter that. When we meet people, we truly don't take much time to get to know them. The vast majority of our work relationships are kept at a surface level at best. From that shallow vantage point, we make massive judgments about people. Those judgments may not always turn out to be positive either. People aren't swayed or discouraged by this. It seems that investing time in others is never as important as real "work."
It's a shame that we've expected this level of shallowness to be the norm of our company culture. If we would do one simple thing and just turn them on, I think we'd see the incredible light, talent, and life each person innately has. We'd see that time invested unlocks who they are as a human and allows them to express themselves through their performance.
I believe in this so much that I give a lava lamp away every time I get to speak at HR and business events. A simple gift to spread the light helps reframe people's perspectives and how they view others. I "require" people to send me a picture of the lava lamp fully lit in their workplace to make sure they keep the light going. In fact, I just got a note from an HR peer who said she still thinks of me because she received a lava lamp from me 10 years ago !!
If you come to my office now, I have five lava lamps going at all times and another four at home. I don't feel I could seriously have enough of them (but my wife may disagree.)
This week, stop looking at just the exterior of the people you work with. Know that they're just waiting for someone to help them flip their switch. Help them do that and be the one who allows their brilliance to shine every day !!