Recently my wife and I went to the fabulous Cincinnati Art Museum to see the traveling Burning Man exhibit. It was incredible !! The different art pieces and memorabilia brought out my inner bohemian. The whole event is not for those who want to just observe if you attend the actual event in the desert. This isn't for spectators, it's for participants. The pictures of those attending are very comfortable with who they are, how they look and how they see creativity all around them.
When special exhibits are brought in to most museums, they're able to confine them into a relatively gallery size location. They do this so they're more concentrated and it's also a way for museums to generate much needed additional revenue. They can charge an extra fee to see something special. I'm absolutely cool with this. This exhibition couldn't be contained into such a size which is indicative of the Burning Man event as well. The pieces ranged in size to such an extent that they were placed throughout the entire museum. This allowed everyone to see the entire museum as well as release their inner bohemian.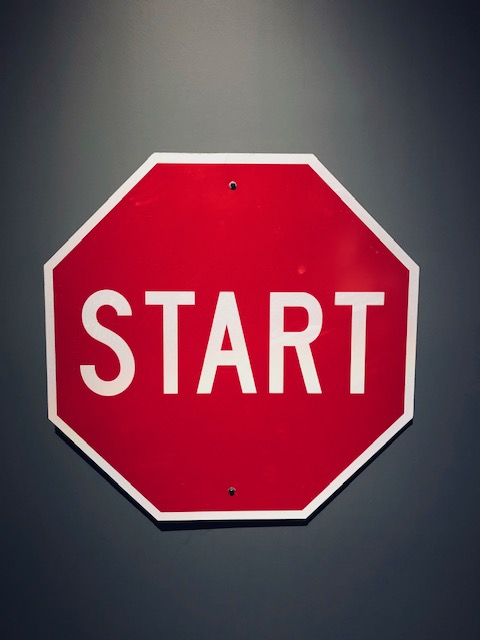 One of the favorite pieces I saw caught my eye instantly and also made me pause. Once you look at it, you can see a much different message versus what you expected this iconic symbol to convey.
What do you think? Do you see it? If you came into an expansive gallery room, turned the corner and saw this hanging on the wall, would you have the same reaction I did? Be honest. When you see this familiar red octagon, you've been conditioned to expect the letters spelling out "STOP". You see many of these on a daily basis on your commute to and from work. When you see the sign you're expecting, you halt, look around and then move in some direction.
Seeing this piece of art made me think of how HR is what you expect when you see this symbol. We are known for telling people to "stop" when it comes to behavior and the majority of systems that we design and monitor. At times this may be necessary. Unfortunately, it seems to have become the majority of how we spend our days both in reality and perception.
This doesn't have to be the case !!
What if you took this piece of art for what it is? What if you slowed down to see the signs of those who work with you. Are you already acting as if they're easy to define, assess and move past? Do you think that you don't have time to notice everyone? I mean honestly, you have work to do that is far more important than connecting with your employees. Don't you?
I wish there was a professional development class that taught people to observe nuances at work. There are countless subtle signs that happen all around us in the workplace !! How people interact with each other. How departments act when working inter-departmentally. And, how people interact when their roles are at different levels within the organization.
You can see signs in every interaction you personally have as well as all of the interactions you observe. However, if you're too concerned with "real work" you'll miss most of them.
Remember this – EVERYONE watches the interactions they have with you and how you have interactions with others. All. The. Time.
So, if others are taking in the signs around them, shouldn't you as an HR practitioner?
This week follow the example of this Burning Man art piece. Slow down and then START watching and reacting to the signs happening with your people. They deserve someone who's willing to be different and do the unexpected. Release your inner HR bohemian and see the new results which will occur !!