It's rare that I don't have words readily available to type and share. I have been struggling with all of the unrest happening around the country and in my city. I wanted to say something, and I've been apprehensive for a few reasons. First of all, I don't want to make a statement that would be taken out of context which is easy to have done with anything that is but a snapshot of words in time. Secondly, writing about a racial issue when I'm a white man makes me anxious as well. I don't want my words to be taken in a way that lessens or marginalizes anyone. However, I needed to say something.
I recently read that in a time of crisis, people of courage take a stand. I choose to step in on this with grace and a yearning to understand. Along with everyone else, I hear people screaming for people to pick a side and be held "accountable." In fact, I've had friends cast their sentiments and shame on me for not instantly, and emotionally, respond to all that's happening. I realize that I'm a visible person in the world of HR, and I choose to be one on purpose. With that, I don't feel you can only comment on all that's good, but you should also respond when things are challenging and uncomfortable.
I ache for what is happening. I truly do. I don't pretend that I have the same background, fear and anger that many do because my life has not been made up of the same experiences. I understand that I am treated differently because I am white and not black. I don't agree with it and I never have. To me, I am disheartened because people have lost their lives. There are families who have lost those dear to them forever when it didn't need to happen, and we all know that in a moment a bad decision can be made that will change the course of a person's life forever.
The country has been filled with angst, emotion and frustration for some time. All that has been happening with the pandemic, endless political rhetoric and a constant focus on all that's "wrong" with our existence has consumed the majority of our thoughts and conversations. I've seen injustice occur when a spark is lit and the bucket of emotions unleashes. It's honestly a cycle we refuse to address and break from.
And, here's where I get stuck for words . . .
You see, I don't dare be prescriptive or should that "this" action should happen or "that" person should be addressed. That's only because there are far too many of us who need to act and speak up. It's not only the people involved in the loss of life.
I've seen many contacts and friends who are beside themselves and have very publicly shouted that they're getting off social media because they just can't handle it anymore. I'm concerned when people step away only because it can lead to a trap of isolation, intimidation and indifference. I would hope there's a chance and a window to engage, understand and have dialogue even when emotions are running high.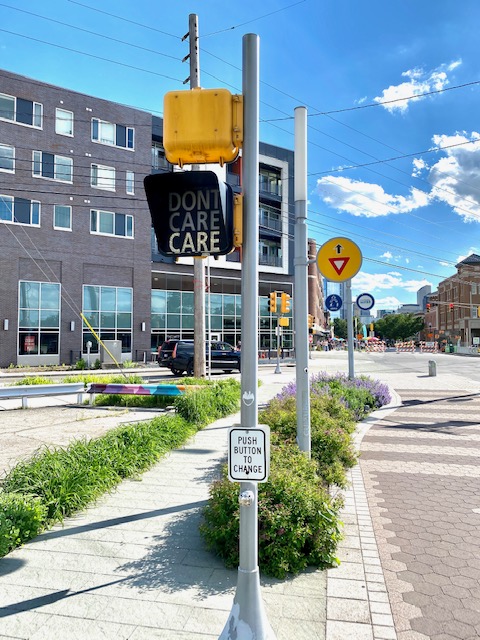 This past weekend, I was in Indianapolis with my wife visiting our daughter. As we were walking through the neighborhoods around Mass Ave., I saw this piece of art which captured what I can do during this time. It's a crossing sign that has two alternative messages on it versus the traditional Walk/Don't Walk. It shows "Don't Care/Care" and the button below says, "Push button to change." As we came up on the sign, it was on the blue light saying, "Don't Care," and we pushed the button to make the sign express "Care."
Now, I know this is an analogy and just a visual cue. However, I believe that in all this unrest what I can do more than ever is care. I choose to do that by reaching out to friends who I know are angry and fearful. I've had conversations already and plan to reach out to others to check in. I've asked for context and not "why" when we've talked. I want them to know that I'm here for them no matter what.
That may seem minor and not doing "enough" in the eyes of many. What you need to understand though is that I have lived my life with the belief and behavior of meeting you WHERE you are and for WHO you are in every aspect of your life. While the world keeps ripping itself apart over ignorant words, self-aggrandizing tweets, and a cult of personality, I choose to engage people as humans, and I will continue to do so.
I value our differences and see them as strengths and attributes that make you a wonderful person worth engaging and knowing. I refuse to be someone who is called upon to only know others if I have to compartmentalize, label, judge, marginalize or generalize them.
I care about people and I ache that once again race has become something that divides us. I want to see that change and I am going to do that one person at a time. It's been said for centuries that "actions speak louder than words." I hope you are reflecting on how you can genuinely express care for people for who they are and where they are in life. To me this is basic and foundational.
In getting ready to write this, I did find some words that captured my heart well from of all places – Nike. Take a look and let's do all we can to bring people together and move forward.