I know I've been writing about the adventures of our daughter becoming a homeowner. It's because I've always been someone who experiences and sees stories come from more of everyday life than life-altering shifts. Those monumental occurrences happen so rarely compared to the beauty of what we encounter daily.
A few weekends ago, my wife and I traveled to Indianapolis for the next project on the list. Melanie purchased her "new" home when it was only 105 years old. Seriously. This fabulous abode was built in 1917. As you can imagine, with age you find new opportunities to bring things into the modern day. This weekend we were tackling her bathroom. The walls and floor needed attention. I didn't dare try my hand at plumbing because . . . I know better.
My wife was putting her incredible organizational prowess into action while Melanie and I focused on the bathroom. We thought our projects would be "simple" and that we'd knock them out with ease. As you all know, home improvement projects are never, ever easy !! Within moments we were making a trip to the hardware store for something we didn't anticipate we'd need.
Let me digress for just a bit . . .
My father LOVED hardware stores. That's not an exaggeration. They were his favorite places on the planet to visit. He was content roaming up and down the aisles whether he needed something or not. Every time he visited me, he was sure to lean over during the weekend visit and gently say, "Don't you think we need something at the hardware store?" I'd agree and we'd jump in the car to visit either the local mom-and-pop store or one of the big box behemoths. I relished those walks through the hardware store with my dad. They were some of my favorite times with him.
Now back to the present . . .
My dad's love for all things hardware had now been ingrained in me, and I've been doing my best to pass this on to my kids. It just so happens that there's a local hardware store within a mile of Melanie's house. It's nondescript and when you see the storefront you're not quite sure it's even open. I told her that we just HAD to visit the store because I was sure it would have anything we needed. She stayed back with mom and I went out to explore.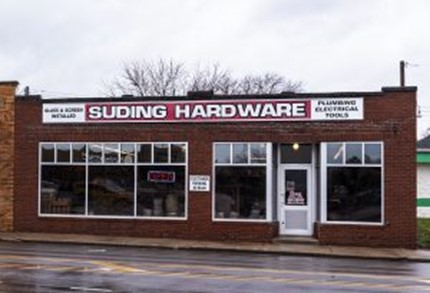 As I entered Suding Hardware, my jaw hit the floor. One of the staff greeted me with "Hey, brother. How can I help you?" I knew I was in the right place. I told him we needed something to remove/kill mold, some finishing nails for paneling, and more of "these" as I held up a fastener. He walked me through the store which was an endless conglomeration of stuff from floor to ceiling. Of course, he knew what "these" meant as he found the bin for the fastener I needed.
When I returned to the house, I made sure my daughter knew about this gem so she had a local store to visit in addition to the big box stores which got plenty of our business as well. The rule of thumb is that you'll visit the hardware store at least three times to complete any project. This came to fruition this weekend as we visited Suding's and Lowe's five times. We needed to make these trips because each time we found a new component to make sure our project was a success. The trips were worthwhile and our "simple" project was finished in a mere 22 hours over two days.
I'm not complaining. This was the effort needed. The many hardware trips reminded me of work and how we choose to face obstacles sure to occur. We can either throw up our hands in exasperation bemoaning why we need to make ANOTHER trip to get more supplies, or we can embrace the chance to be better equipped. If we chose to look at adding additional trips to the business "store," we'd understand and value that more people bring in new thoughts, perspectives, and energy.
Each project will require different involvement and unique skills. We can't keep thinking everything we need only resides in the few people who are assigned to the tasks at hand. There's bound to be someone who wants to greet you warmly and lead you to the part you needed that was missing.
This week make three trips (at least) to those outside your project circle and do some shopping. I'm sure you'll find the perfect items to bring your projects to life.