If you don't already know, I'm kind of a hippie. I have been for most of my life since college. I've tried to be an open minded person who looks at life from many, many angles. Don't get me wrong. I have strong beliefs and values of my own, but I'm always keen on observing and hearing the perspectives of others. When I left my small village in Ada, Ohio to attend school at Ohio University, I had my eyes opened to so many different people from an innumerable amount of backgrounds, families, lifestyles and approaches.
It was at OU that I first met people who wore tie-dye clothing. I had seen some in movies from the 60's and 70's, but I didn't know anyone who actually owned some. At college they sold tie-dye clothing of all sorts at stores, in booths on the street corner and at college festivals. I was drawn to the multicolor patterns and the way the clothing seemed to flow and blend together. I was hooked !! I started gathering more and more shirts over the years, and my wife even tie-dyed her garter as a surprise for our wedding. I'm still a big fan and wearer of tie-dye. My love for it has only grown.
What does that have to do with HR? Well . . .
This past week I had the honor of speaking at the Villanova HRD Annual Networking Reception. I had the chance to "meet" many of the students during a Zoom meeting. We hit it off and laughed a ton as we planned their event. I asked what they'd like to have covered and they shared that they wanted to hear what HR was "really like," and if it matched what they had already learned and experienced. I tried to think of something fresh to present so I developed a presentation entitled "If I Knew Then . . ." I gathered my things and headed to the Villanova campus and I was geeked !!
After I checked into the hotel, I rode the elevator down do the conference room to set up. As the elevator came to rest, the doors opened and then I saw it . . . tie-dye !! The students had blue and white tie-dye shirts made with the hashtag for the event. I laughed and smiled because this was a complete surprise. I thought it was so touching that they chose to do this. We were all very excited to see each other in person, and I told them that their shirts meant so much to me.
Ironically, all of the students wore blazers over the shirts because they wanted to make sure they looked "professional." That made me laugh even harder because their move is so reflective of the real culture situations we still have in the workplace today MANY years after I entered it. Think about it. In an effort to show support and camaraderie the students felt they still had to do something else to conform in order to be taken seriously by the people from the business community that attended that night.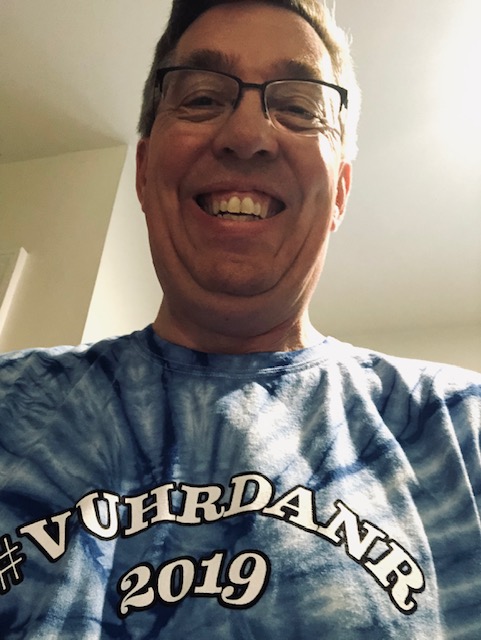 How long can we continue to let something as simple as a piece of clothing determine whether or not we can "allow" people to express themselves? Seriously. You see, the students made a shirt for me as well, but I didn't have a chance to get it before the presentation. I'm so glad it was late because the attendees would forgive me as the goofy, extroverted guest to wear tie-dye far more easily because I was visiting. But, they felt compelled to conform in order to be accepted by the outside "professionals." I wonder how many of the professionals made comments or wondered why these future HR pros chose to be so intentionally non-traditional.
I see tie-dye differently. I think that something as simple as a multicolored shirt can show how much people want to be connected together. We spend so much time seeing people who choose to be different as "wrong." Why is that? Why can't we do more to value differences and see how those incredible personal attributes make up a pattern that shows how connected we are? I see people like a tie-dye shirt. The more colorful, swirlier and varied the better.
This week look for the tie (dye) that binds you to others. You'll be amazed by all others have to offer without covering it up !!