I'm a donor, a blood donor. I've been doing it for years because I had an incredible example who did it well before I even thought about giving blood. My grandfather lived in the mighty metropolis of Luckey, Ohio (now at 1,013 people). My brother and I were raised by my incredible grandparents as my mom worked and went to college. Our father passed away when I was four and my brother was two.
My grandfather was a dairy farmer who also raised crops. He was a person who I admired greatly because of his humor, his outlook on life and his work ethic. Growing up on a farm is something that I know shaped me, and I cherish every moment of those years with him.
On the brim of his hat, my grandfather affixed pins representing the gallons of blood he donated. He kept his hat a hat rack near the front door. One day as he put it on while walking out to the barn to care for the cows, I asked him what the pins meant. He said he donated blood and I had no idea what that was. I said, "If they take your blood, won't you run out?" Without missing a beat he said, "Heck no Steve, God gave me enough blood for everyone. I'll always have what I need." Then he laughed deeply and we went out to the barn.
As soon as I was able to donate as a teenager, I started giving. I've been fairly regular in doing this and just gave again recently. In the mail last week, I received my next pin. I am now up to seven gallons. I might catch Grandpa in a few more decades !!
The great thing about giving blood is that they tell you your blood type. This is necessary for you to know because some day, you may need help from somebody. My blood type is O Negative – the universal donor. Kind of cool that I have "enough blood for everyone."
Your workplace has a culture type too. The question that comes up is – do you know what your culture type is? Does it fit everyone?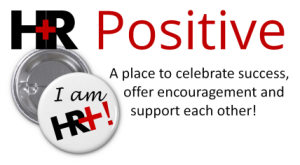 I'd like to tell you about a "new" culture type that Paul Hebert and I are introducing called #HRPositive !!
We're both a bit tired of people tearing down HR thinking that by doing this, it will build up the field in the end. When has this ever worked? How does approaching HR negatively and ripping it up for its faults, which it does have, improve what we do and who we are? Who sits back and says, "Man, if I could find a job that wallows in misery all the time, I'd be set with my dream career ??"
Enough's enough. I have always believed in being positive. It's not a shtick or some social media persona. I also am a huge believer that HR drives the culture of an organization. We do it through our behavior and approach. I don't know about you, but I have seen being positive work with people almost every time you interact with them.
We're taking this seriously and would love to have you join this movement. We're looking for examples of HRPositive that is happening in workplaces, in social media and anywhere we can find it. We've started a Linked In Group called "HRPositive" that is open to folks who want to see the tide turn back to HR being a great field to be in. You'll also see us use the #HRPositive hashtag on Twitter.
So, would you like to be a culture donor? We'd love to see Human Resources be practiced in a way that encourages people, engages employees and moves companies forward. Remember – we have enough energy for HR to be positive for everyone !!