Doesn't it seem like we cram a multitude of life events together all in a short period of time? It's not advisable to group so many things together at the same time. You add unnecessary stress even though you have the best intentions.
My wife, Debbie, and I decided to remodel our kitchen, flooring and family room late in 2019. We had saved for it and thought it would be exciting to give some life to our house. Doing a remodel at this scale is a big deal because it meant that we would be "living" in our basement for several months. Of course, right when construction was scheduled to start, a global pandemic hits. We went forward with the project because we had it planned. We never anticipated that we'd be working from home and not at our workplaces on top of everything.
The project went well through every phase . . . until we started to reach the end. Materials were slow to arrive and the tile crew who put the new backsplash up didn't follow the design. We had lived in the basement for 3 1/2 months and the tension was starting to mount. Let's be honest, the whole "made for TV" shows on HGTV aren't how projects truly proceed. They're great television, but they're not realistic. Things don't get resolved in an hour.
Since we were nearing the end of our project, the final touches started to drag out and communication started to dissipate. Please understand that we have had a very good experience with the company, the designers, and the work crews who had done the work so far. We just wanted to be done !! Several calls and texts were shared to try to get the tile mistake repaired. We seemed to have hit an impasse.
Just when it seemed like things were going to escalate, I got a text from Aaron. It said, "Hey man, I heard you needed me to come out and fix the tile work. I'll be out in a few days. This is my cell. We'll get this taken care of." The temperature instantly receded. He texted a few more times and we hit a few more delays, but we finally landed on a day for Aaron to work on the tile. He was the regular tile guy the company used instead of the first crew who didn't do the work the way we had wanted.
I was working from home when Aaron and Ted, his assistant arrived. I had papers scattered across our new island and was typing away on a spreadsheet I needed to finish that day. Aaron was very gregarious and talkative. Ted was steady and silent. As they came into the house, Aaron exclaimed, "Hey man. Aaron. Nice to meet you. This is Ted." Ted nods his greeting. "So, I see we need to finish up this tile and get it back to how you'd like it. Let me grab my tools, some drops (drop cloths), and we'll knock this out and get out of your way."
I instantly connected to these two guys and was grateful they had arrived. Aaron pulled out this large black square which I knew was a speaker. "You mind if I play some tunes man?" I replied, "No, that's fine. I always have music playing when I work." (In fact, I had Spotify playing in the background as he asked.) "You cool with country music?" he asked. I stated, "If that's what helps you tile, I'm good with it." "Cool. I may switch to some classic rock though. Just depends on what I'm feeling." I let him know I was good with whatever style he chose.
Before, I continue you need to know that Aaron and Ted are artists. That is a fact !!. They worked smoothly and collaboratively. Aaron took measurements and Ted cut tiles so that the entire space came together seamlessly like a puzzle. They didn't have to remeasure or recut any piece. Each one fit the first time. My conversation with Aaron continued as well. Having two extroverts in the same room ensures that talking will occur. We talked about our occupations, our families, the pandemic, politics and more. We did it with ease and it was so reassuring to experience.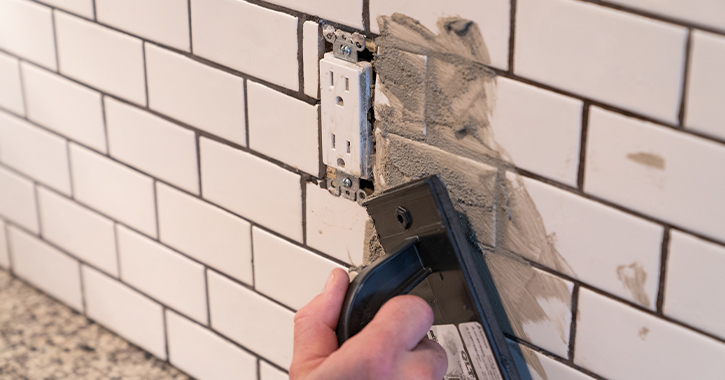 As he was finishing up, he noted that he'd need to come back one more day. We were short with some detailed pencil tiles. I asked him about the framing of those tiles around our window. He noted, "Yeah, I see you're window's crooked. The other guys tried to make some cuts to cover that. I would have made some different cuts, but we can frame it and get it finished." I replied, "Won't it look a bit odd because you'll have to match how the others started the job?"
He paused and smiled. "No problems, man. I follow the philosophy – When in doubt . . . grout."
I didn't know what he meant. He gleefully explained that he would use grout between the seams of the tile and pull it all together. If a space needed a little more grout, he'd add it. If it needed less, he'd thin it out so that the tiles all looked like they naturally were in their designated place.
I never expected to gain perspective from my tile guy, but I was wrong. His philosophy is exactly how we should approach HR. We are the grout that brings people together !! Since everyone is naturally different in how they work, look at life, and have a mix of unique skills and approaches themselves, someone needs to bring cohesion while still allowing them to be who they are.
Some people will need a bit more "grout" to add them to their place in the tile, and some will need less. The key for us is that we're not trying to keep people set in their ways or conform. Employees are looking for ways to contribute while being connected. They want to be part of the bigger picture and understand how what they do adds value to the overall results of the company.
This week, take Aaron's advice and see how you can reshape how you practice HR. Are you being the grout that fills in the seams? If you aren't, I suggest you change and start bringing folks together. It is far more enriching and you'll love how the workplace and culture looks when you're done !!