I am an avowed nerd and proud of it !! I have been nerdy since I can remember. It never really bothered me because I was also able to fit in with the jocks, the band and choir groups, and many academic factions. I've felt comfortable being involved and connected with whatever group of people I've been around. This is challenging for others because we would rather have people stay in their "assigned" group. I hope that I'm never that narrow because there are far too many amazing humans on this planet to get to know and affiliate with.
When I hit 7th grade, I was tall, gangly and looked like a giraffe that didn't quite fit in its body. Clumsy was more of the norm than having graceful moves physically or socially. I was trying to figure out the mystery of being a teenager in a new town and a new school. I had to make new friends out of thin air. The overwhelming majority of my classmates had been going to school together since they were in Kindergarten. I was completely out of my element.
One day I found myself in the stacks of the school library and I found the book The Hobbit by J.R.R. Tolkein. I had found my place !! The book took me to an entirely new world where I could lose myself. It gave me something to latch onto with all of the changes going on in my "new world." I learned that this great book was the prequel to the Lord of the Rings trilogy, and as soon as I could open the first book, I did. It was time for The Fellowship of the Ring.
If you don't know this book or haven't seen the incredible Lord of the Rings movie, stop reading this post and go see them. I own them all and have read the trilogy several times as well as watched each movie over and over and . . .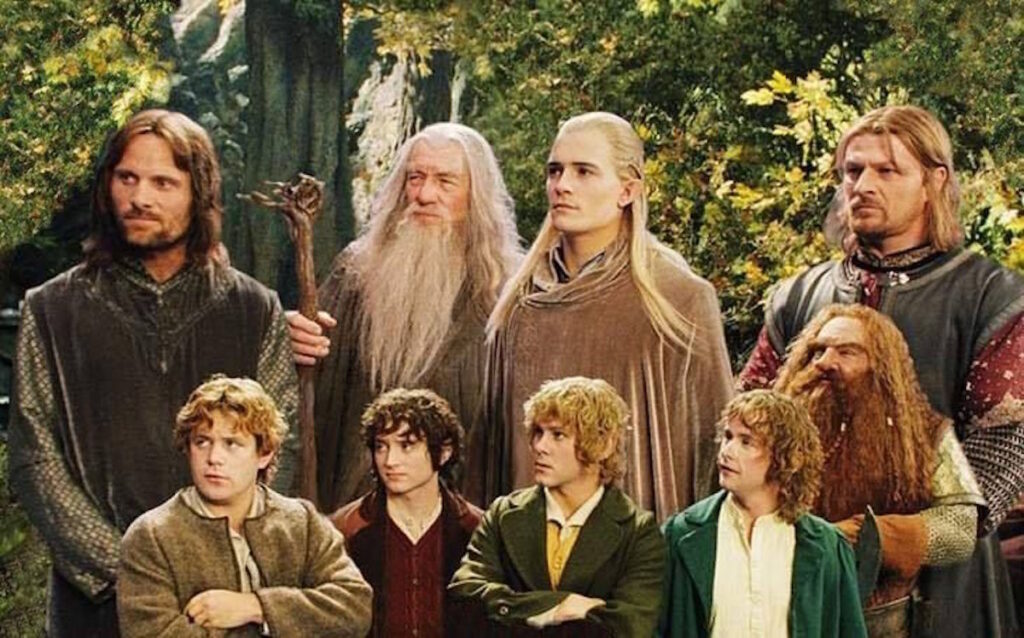 The Fellowship was amazing because it brought characters together who were very diverse and not cohesive at first. They had several agendas and dislike for those who weren't from their kingdom. Over time, as their adventure continued, they realized that each member of the group had talent and skills which were needed at various times of their quest. They were trying to get the ring to a very dark and evil place to destroy it so that evil would not be able to take over their world.
When I think of how this unlikely combination came together, I thought of HR. (Again, remember I'm a nerd and see HR in most aspects of life). I see so many amazing movements happening around the globe right now. I also am encouraged by more and more HR voices who are sharing on social media platforms. Top that off with podcasts that feature HR practitioners who express new thoughts and perspectives.
Unfortunately, there are also still those who feel they have to justify their work in HR personally and in their organizations. And, there are still those who write blogs, have podcasts and make presentations which diminish the profession in order for others to focus on them for personal gain. It's frustrating to see that we continue to seem as if we exist outside the recognized business world.
So, I think it's time for us to form a Fellowship of HR !! Seriously, it would be phenomenal to see the entire profession come together to move forward. The infighting and divisiveness would cease and we would lift other professionals up so they could succeed personally and professionally. Wouldn't it be amazing to elevate the many voices and perspectives from around the world so that organizations became intentionally people-first all the time?
I think we can if we follow the example from the book on how the group came together. The most unlikely character, Frodo who was a Hobbit, stepped forward to say he would take the ring to have it destroyed in the midst of all of the other characters from various kingdoms argued as to who should lead or be in charge. The fellowship rallied around someone who had no visible strengths, stature, or personality. However, he showed a willingness to take a risk and humility that others overlooked or lacked.
The time to come together as a profession is now. The time to move the industry forward as a cohesive, diverse, and inclusive community is now. There are elements springing up everywhere that together form a fabric that is creative, authentic, and relevant. Let's embrace all and give everyone access to join this fellowship. No one leader. No one effort. Instead, a fellowship that shares a common bond to improve the humanity of the workplace, and in turn, a more well-rounded society as a whole.
This isn't aspirational. It's needed. The quest is at hand. Will you join in the fellowship? It would be great to move ahead with each one of you !!