Dinner with Friends
This past week I was invited by some dear friends who all work in different facets of HR. It was a chance to network, share stories, laugh and get to know each other better over a great meal. I was tickled to be invited because I never take that for granted. To be asked to come to an event on purpose is a feeling I never want to assume is going to happen. Also, I had an ulterior motive. Another person was invited to attend and I had longed to connect with him.
As people gathered and started to introduce themselves to each other, he entered the room. He had a quiet self-assuredness about him and he seemed very at ease with everyone although it was obvious he knew few, if any, people attending. He was in the midst of an intentional conversation and I wanted to interrupt. I didn't. I waited for their conversation to hit a natural break and then stepped in.
He looked up as we caught each other's glance and he said, "I know your face." I said, "Hi Torin, I'm Steve Browne." His eyes widened and we shook hands. "I've been wanting to meet you for years," I said. We jumped into a conversation as if we'd known each other for years even though we had only ever "connected" online. It was deep, moving and something I had yearned for.
We moved to separate tables and enjoyed a meal with those around us. As I rose to leave, I went back over to my friend and thanked him. I told him once again about the joy I felt in getting to spend time with him. We exchanged our contact information and I told him I'd be intentionally staying in touch with him going forward. He said, "I hope you do." We then embraced as friends should.
Hey Neighbor !!
My wife and I have lived in our neighborhood for 31 years. We are in a quiet cul de sac in an "older" set of homes. The development was build in the mid 1970's and we've loved it. We had been married only two years when we moved in. The other houses were filled with families who had been there since the neighborhood popped up. We were the "new" family.
Turn the clock forward three decades and now we're the established family while others have moved on. We've seen slow movement over this time, but it has happened naturally. The ranch house directly across from us recently changed from a rental property to one for sale. People refurbished the house and wanted to flip it and take advantage of the hot housing market. Unlike many other homes, this didn't sell instantly. In fact, it stayed available for months.
Then, this last week, it sold !! We saw it online and were curious as to who was going to move in. After going out to see a small town and just meander (a fave activity for my wife and me), we pulled into our driveway and saw a family standing in the adjacent driveway. Our hearts jumped. My wife asked if I was going to introduce myself. The extrovert in me was eager to jump out of our moving car and go see them. I controlled my urge and decided to walk out and check our mail.
As I did, our new neighbor looked up, raised his hand and exclaimed, "Hi there." I was in. I walked over, extended my hand and said, "I'm Steve, welcome to the neighborhood." He replied, "I'm Byron. Nice to meet you and nice to be here." We talked for a few minutes when my wife and his wife joined us. "I'm Debbie." "I'm Jill." "It's great to have you in the neighborhood," my wife shared. "We hope you feel welcomed and at home." We continued chatting and getting to know each other for a little while longer, and then said we'd catch up more after they got settled.
I'd Like to Catch Up
One of my closest and dearest lifetime friends, AJ, texted me this week and said he'd like to jump on a call over the weekend. I said, "Of course," and we planned to talk Sunday afternoon. AJ was one of my "kids" during our time at Ohio University. I was the Resident Assistant in a freshman dorm and AJ originally lived on the 3rd floor while I worked/lived on the 1st floor. He had a challenging roommate his first semester and he had found his way down to my section. I saw him hanging out more and more often. He asked if he could transfer to join my floor, and we made it happen.
We connected instantly, and I could tell he was accliamating more with new friends. He found his way and we became fiercely close. He stayed connected with me throughout college and he moved to Cincinnati. During his time in Cincy, we hung out just as we had in college. He was here for the birth of our kids and we shared many "life" moments together. We stayed close until he moved out to Seattle. It was harder to stay in touch, but we managed. He was even kind enough to ask me to be his best man in his wedding.
Time passes too easily and we connected less and less. We have remained close though because every time our paths crossed, we picked up right where we left off with ease. The call this Sunday was no different. There was only one noticeable change. During the call, he told me, "Hey, I know we haven't stayed as close as we had been. I want to change that. I miss you and Debbie and want Kiki (his wife) and I to rekindle things." He then told me some very heartfelt feelings about how it mattered that I had reached out to him when he was a freshman, stayed true to him as he worked through his 20's and remained with him even now so many years later. I told him it wasn't cool to make me weepy.
The one-hour conversation filled us both and we committed to no longer drift apart. I know that will be the case !!
******************************************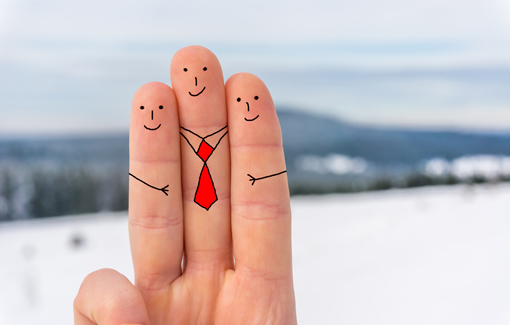 The reason for these three tales is simple. Connections matter and people matter. Every. Single. Person.
We tend to take the relationships we have for granted and overlook how impactful they could, and should, be. We get swallowed by shallow comparisons, differences of opinions or perspectives and the ridiculous pace we follow throughout our daily living.
We need to pause, slow down and not miss any chance to connect. People want to know they matter. They don't hear it or see it enough.
Change this. Start having experiences where you can tell tales. Show others that it's important to have them in your life. Trust me. In doing this you'll see that life is full, meaningful and valuable. Wouldn't that be an amazing position to face each day ??