I haven't been writing the past few weeks because I took some time "off" to pursue one of my other passions – speaking. I was fortunate to have been asked to present at three conferences – Workhuman in San Diego, the Oklahoma State SHRM HR Conference in Oklahoma City, and the New Mexico State SHRM Conference in Albuquerque. Being that I live in West Chester, Ohio just outside of Cincinnati it's taken me some time to understand and acclimate to the different time zones I found myself in. I'm just now getting back into a regular wake/sleep cycle.
Each event was magnificent in its own way !! I could write blog posts about each one for weeks and weeks to come. A highlight for me at each conference involved a mix of seeing familiar friends I've met over the years accompanied by meeting scores of new people. There is nothing that captures my attention as much as this. I've always been wired around people throughout my life. I can't get enough of meeting and engaging with new folks.
At New Mexico SHRM, the incredible volunteer leaders burst into the main room and brought people to their feet with music, dance, clapping, and extravagant purple sequined coats and hats. Energy and anticipation were high as they set the mood for the full conference ahead. They shared details of the schedule, thanks for all of the work people had done to pull the conference together, encouragement to visit and chat with exhibitors and sponsors, and more. I was used to this cadence because it reflected a pattern I've seen at many SHRM State Conferences. It was so well done and I personally was getting more geeked myself to be a part of what was about to happen.
While waiting to take the stage and open the event, I was fortunate to experience something that put things into perspective in a way I've rarely experienced at past HR gatherings. Margaret (a new friend by the way) took to the podium. She is Navajo and she explained the conference had a Native track and then she introduced the amazing Gabriel Ayala to open the conference with a prayer and a song. He is a singer, musician and artist also from the Navajo nation.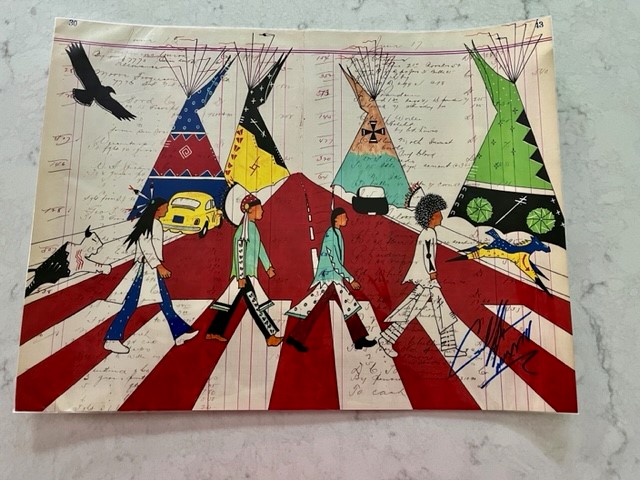 Margaret and Gabriel welcomed everyone as fellow "five-fingered beings." They explained that the Navajo described humankind as five fingers because it is something that binds us all together as humans. I was floored. Something so visible, obvious, and yet overlooked by all of us.
Gabriel encouraged us to embrace each other as fellow five fingers. He noted it is far better for us to see how we have a common bond than it is to continue to try and tear each other apart. He acknowledged we are all unique and have known differences that make us strong as fellow five-finger beings. He then sang a prayer in his original language as tears rolled down my cheeks.
It was perfection. To recognize and affirm we are all humans should be at the opening of every HR event !! Too often we focus and dwell on those situations and circumstances that exhaust us. As HR pros we forget we have a common bond and we fall into the trap of the dark side of human behavior. We don't see how to step back and get out of the muck.
Take heart !! The majority of people around us are fantastic most of the time. As humans the "all of the time" standard is out of reach. However, most of the time is very adequate. We need to take the advice of Margaret and Gabriel and call upon our five fingerdness.
This week when the urge to focus on the negative starts to well up within you, look down at your hands. Then, remember the people you will work with have those same five fingers. Value them as fellow humans first and foremost. Trust me, it will reshape your day, your outlook, and your approach.
(The artwork above is Gabriel's native take on The Beatles' "Abbey Road" album. You know I needed to have this !!)