A New Year is upon us and everyone is supposed to be making resolutions. They're evidently our feeble attempt to alter something that we want to see improve in our life. It's odd that we wait until the 1st of January every year to get the urge and drive to change because the efforts that are taken to make resolutions are too often futile. We give up when the first chance comes to no longer eat well, read more, go to a gym etc.
Why is that? What is this cycle where people want to change (sort of) and then they don't (reality)? Do we want to move in a new direction? I think we do. We need to remember that change happens around us all the time whether we want it to or not. It's rare that change is done in massive shifts. Change occurs every day because our circumstances move and shift more than we care to recognize.
I think the question is more around the idea of "ownership" than it is change. We can either be a victim of the changes that occur around as or as they pass us by, or we can do our best to own our situations. I don't mean to sound presumptuous or overly self-confident, but I feel that going in to a New Year you can move ahead of the changes you see and feel versus being trampled by them.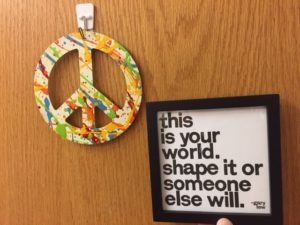 I recently received a cool gift that immediately went up in my office. It's a quote that I can absolutely identify with. Here's a pic of the quote along with another cool gift from a friend that captures who I am. Now, hang with me because this isn't a post saying that you should like tie-dye, art and peace signs. I am sure that you have all kinds of characteristics and interests that define who you are. They don't have to mirror someone else's interests, and I'll bet they won't because you are unique.
The difference in "owning" who you are is captured in the quote. Shape your circumstances around you. This is true both personally and professionally. We all face things that some may deal with easily while others will struggle. One step in moving forward is to move. Sitting back, making some hollow resolution and then waiting for it to fail is being stagnate. That shouldn't be an option for any of us.
I hope that you take on this encouraging position as you look at who you are and what you do in HR. I think it's great that we serve others in our work. This doesn't mean that we can't own what we do or shape our world. HR that comes from a position of leadership is much more effective than sitting back and waiting for others to decide how we should practice HR.
This January do something more than make a resolution. Make the decision that you want to shape your world. Be persistent and persevere. When the bumps come, work through them because it's part of the shaping and molding process. See what happens as you move naturally with the change that is sure to come. I'm sure it will be fantastic !!