"Is this just fantasy? . . ."
The opening lyrics to the Queen classic anthem "Bohemian Rhapsody" grab me every time.  This weekend I went to see the movie, Bohemian Rhapsody, because I am a huge Queen fan, and have been for many decades. I loved it !! Now, I understand that it's been getting some push back because of some inaccuracies, but it's a movie. I didn't go to critique it. I went to enjoy it, and I truly did !!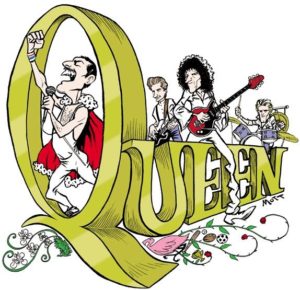 The music was, and still is, magnificent and I loved singing along in the theater. What intrigued me even more was some of the dynamics that were portrayed throughout the movie. I think there are some very interesting lessons we can learn from about being in a band that can be reflected in the workplace.
Unique Talent – Each member of the band brought something new to the makeup of them as a unit. This both brought them together and tore them apart. It's difficult when you put various talents together because we tend to compare and desire that other's share our talent. That isn't usually possible. I think that we should encourage the strengths that each person brings and see how to meld those together.
Diversity of Thought – This is something that isn't valued nearly enough. Each member of the band contributed different ideas and perspectives towards their various hits. At times, ideas can run contrary to the flow of where a team (band) is heading. It is hard to listen to contrarian thoughts, but great leadership makes space for all thoughts to be shared and considered. You may want to see if you encourage this diversity. You may be missing some great ideas waiting to be known !!
Incredible Bonds – The band realizes that they are much stronger together than they are apart. They each play their part which allows them to make incredible music. When a team hits their stride in the workplace, they can have this same type of success. It takes incredible work and a component we tend to avoid – conflict.  Rarely does a team come together to take on a project and get everything accomplished smoothly. Conflict is something that will occur. Since you know that the bond is critical, help people work through conflict instead of avoiding it.
Risk taking and Creativity – More voices can lead to a team to rally together. When the band recorded their classic anthem, the record company balked because it was longer than the standard three minute radio play of the day. The band wasn't willing to accept that roadblock because they felt their work was worth it. In the end, their risk worked. We always say we desire risk taking and creativity in the workplace, but we rarely truly allow it. Teams can come together to be a "safe" lab to try things out and move in exciting and new directions.
So, when you get your teams (bands) together at work, I hope you look at all of the great facets they can bring to each other, the workplace as a whole and the contributions they can make. Who knows? Maybe they have an anthem in them as well. Take time to nurture teams and expect them to thrive, and this can be the real life at work and not a fantasy.