Recenty a phenomenal effort to pull the HR blogging community came to a close – the HR Bloggers Network.  It was the brainchild of Laurie Reuttimann and I was fortunate to be included in this effort.
The highlight for me in this was to be attached to a group of incredible HR pros who regularly offer great content to the broader HR community.  I make sure to read each post these folks offer and utilize their wisdom, insight and advice in how I practice HR everyday !!
Too often, when people read your posts, they don't take that next step to look at a blogroll or see what others are saying. I'm like most people and have my "faves," but honestly, I try to take in as much information as possible because it allows me to be a better HR professional.  One can never learn enough . . . ever !!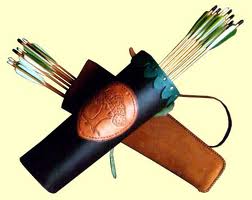 I have an approach that I'd like to share with you.  I think HR people need to load their quiver.  This way you have the arrows needed in order to protect yourself, hunt for new opportunities and attack those things that need to be addressed.
HR Blogs are a great way to load that quiver !! So, this week I want to break out the authors who made up the HR Blogger Network and make sure you know who they are, what their blog is about and where to find it.  Please note that there are a myriad of other phenomenal HR bloggers out there, and I'm working on a way to feature them as well.
My goal is to reach the entire HR community !!  I know that's a huge goal, but we are only better by being more connected.  Make sure to take this list of bloggers and share them with others.  Don't just read this post and stop.  It's time for us to arm everyone so that all our quivers are full !!
Now, the great folks (and friends) from the HR Blogger Network:
Laurie Ruettimann (@lruettimann on Twitter) – Social media pioneer who has an edgy look at our profession.  Always dig that she makes me stretch !! Her blog is The Cynical Girl.
Bonni Titgemeyer (@BonniToronto on Twitter) – Founder of the Employment Opportunities List and the TEPHR community. Great voice on getting employment right !! Find her at The EO List.
Elizabeth Lalli-Reese (@TXStrategicHR on Twitter) – Keeping HR strategic is always a good thing and Elizabeth offers a ton of insight and perspective on how to do this.  Her blog is Texas Strategic HR.
Lisa Rosendahl (@lisarosendahl on Twitter) – As an HR practitioner in the healthcare field, Lisa offers a grounded view on HR and on life !!  You can find her blog at Lisa Rosendahl.
Ben Eubanks (@beneubanks on Twitter) – Ben is the present and future of HR !! He offers incredible resources for younger people in the field.  His blog is aptly named Upstart HR.
Kimberly Patterson (@kimberly_patt on Twitter) – Kimberly truly takes a different look at HR.  She is very passionate about what we do and wants to make sure that we look at all angles of what we do.  Hence the blog title – UNconventional HR.
Joan Ginsberg (@JoanGinsberg on Twitter) – Joan is a truly genuine HR pro who always gives a genuine look at all that we do !!  That's why it makes sense that her blog is titled Just Joan.
Bill Boorman (@BillBoorman2 on Twitter) – Bill is a futurist and the driving force behind UNconferences literally around the globe. He's always looking for what's next. His blog is Norton Folgate – The Recruiting Unblog.
Lars Schmidt (@ThisIsLars on Twitter) – Lars is all about recruiting, innovation and talent. He's a compelling force on making workplaces better.  You can find him at Amplify Talent.
Melissa Fairman (@HrRemix on Twitter) – Melissa is a fellow HR practitioner who really has a solid handle on all facets of HR.  Her advice is practical and applicable in all industries. Her blog looks to mix it up at HR reMix.
Jennifer McClure (@JenniferMcClure on Twitter) – Jennifer has a great grasp on recruiting and integrating HR strategically throughout an organization.  She is contantly looking how to reach the HR community. Her blog is Unbridled Talent.
Victorio Milian (@Victorio_M on Twitter) – Victorio brings a cool vibe to all that he does.  He offers a great perspective to recruiting issues and opportunities mixed in with a great musical taste !! Find him at Creative Chaos HR.
Jennifer V. Miller (@JenniferVMiller on Twitter) – Jennifer has a focus on all aspects of Leadership, and she gets it right !!  Her insight is very applicable at all levels of an organization. Her blog answers The People-Equation.
Dan McCarthy (@greatleadership on Twitter) – Dan is another great voice in the Leadership arena.  His focus on making us GREAT is phenonmenal – and needed.  Connect with him on his blog Great Leadership.
Lance Haun (@thelance on Twitter) – Self-described "nut about Talent Management" and an avid NBA fan, Lance gives a broad perspective to all areas of talent in organizations.  His blog is Life Between the Brackets.
Matthew Stollak (@akaBruno on Twitter) – Matthew is one of the few HR voices from academia.  He is advancing the field and also training the folks of the future !! His insights can be found at True Faith HR.
Paul Hebert (@IncentIntel on Twitter) – Paul is one of the few solid, objective voices on the topic of recognition.  He doesn't pull punches because he believes in the value of lifting others up !! You can find him at Symbolist.
Robin Schooling (@RobinSchooling on Twitter) – Robin always has a great tale of experience from her career in HR.  They are episodes that we all face at one time or another !! Learn from her at the HR Schoolhouse.
John Nykolaisyn (@CigarSPHR on Twitter) – John has a great background in both the hospitality and education arenas.  He likes to keep things fresh and turn others "on their head" in the workplace !! His blog is Fast Food HR.
Ron Thomas (@ronald_thomas on Twitter) – Ron is currently an ex-pat working in a senior HR role in Saudi Arabia.  He is a true global HR leader with an incredible look at all that HR does. You can find him at Strategy Focused HR.
Steve Boese (@SteveBoese on Twitter) – Steve is the strongest voice in HR Tech !!  In fact, he's heading up the HR Tech Conference starting this year.  He also hosts the incredible HR Happy Hour blog radio show. Connect with him at Steve Boese's HR Technology.
Tim Sackett (@TimSackett on Twitter) – Tim has a great viewpoint on HR in the field.  His no nonsense approach is refreshing and challenging. His blog is at The Tim Sackett Project.
Shauna Moerke (@HR_Minion on Twitter) – Shauna offers a bright, fresh look on life and HR !!  If you know her you'd see this is true from her infectious laugh to her healthy wit. Find her at HR Minion.
Tim Gardner (@TimJGardner on Twitter) – Tim brings a unique voice to the world of HR bloggers.  A self-proclaimed introvert, Tim has a thoughtful, in-depth viewpoint every time he writes. His blog is perfectly titled The HR Introvert.