"Steve !!! Man, you're tall !!"
"Wow !! You're a lot taller than I thought you'd be !!"
"Steve !! Great to meet you finally.  Man, you're tall !!"
And so it was as I entered the hotel lobby for my first HRevolution.  I took it in stride that I towered over my peers physically because I'm used to being tall.  NOTE: There were other tall HR folks at HRevolution, but we were the significant minority !!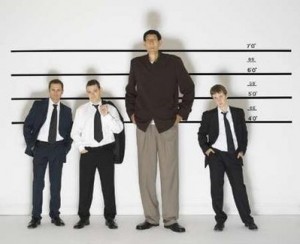 Right after I was "sized up" the next thing I heard for 48 straight hours was laughter.  Tons and tons of exhuberant laughter.  You see, the difference to me for this event wasn't whether it was a "Conference" or and "UnConference" – it was that I got to meet friends in person.  I wasn't surprised by how engaged everyone was, or how friendly everyone was at all.  In fact, I expected it.
It was so refreshing to not feel any pretense or jockeying for attention when you enter a new environment.  I've always been a person who just is who he is – and now I was at a conference with 130 others who were incredibly genuine, unique, funny and short. (hee, hee)  I loved the fact that you could be intentional with other HR folks and it was welcomed, not shunned.  It's hard to find the words I'm looking for here. I feel closure I guess.  Closure to meet and get to further know people that I truly care for.
I would list a link for EVERYONE that attended because I don't want to miss anyone.  It was that cool !!  It was humbling to be a presenter.  It was great to hear the thoughts and ideas of others.  And, most of all I love the fact that HR people were willing to challenge, confront and explore different approaches to HR.  It was so non-traditional that I secretly hoped every HR conference I attended would be free enough to be this candid.  Ahhhh, to dream !!
At our session, Jason Lauritsen and I challenged everyone to see what they would do to improve HR.  Here's my response . . .
I'm not going to let HR people live behind their avatar anymore !!
So HR beware.  I'm going to be intentional with you just like we were with each other at HRevolution.  No apologies. It's time for us to remember that we're humans first.  Believe it and don't forget . . . I'm tall !!