This must just be my "bucket list Summer."  On Thursday, I got to see a second dream rock concert !!  In July, I saw U2 with three of my closest and dearest friends at Soldier Field in Chicago.  This week I saw Sir Paul McCartney in Cincinnati !!!  To say I was geeked would be an understatement !!
To see one of my rock heroes live was amazing.  He was more than I even thought he'd be live.  And, I think that was true of the 40,000+ people that went to see him.  We all had images in our heads, or ideas of how we'd hope he'd perform.  Everyone was probably also hoping for him to play "their" favorite song during the night.  I know I felt that way and he did play my favorite song of his incredible career . . . ALL of them !!!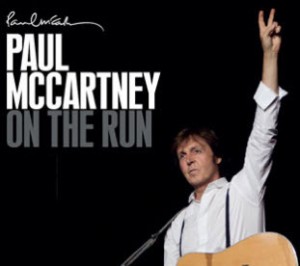 What was surprising to me was that there were tons of people who thought he may have lost a step, couldn't sing as good as he used to.  After all, he's very close to 70 years old !!
Then it struck me.  This is how most people view people at work.  Most of us look to compartmentalize, or label, people based on our perceptions of what, or who, we think they are.  This is not good.  We continue to feed on the notion that people are bound to disappoint or detract from us.
In fact, I came across a person this week in a conversation at an outside meeting, and our discussion focused around how he felt that EVERYONE would take advantage of things, or them at work.  When I said I disagree and I thought that was a pretty cynical way to view people, they said, "Steve, you're just naive !!"  I disagreed with them and we left the conversation at an impasse.
By the way, the conversation was with another peer in HR !!
I love that I'm naive !!  I love that I went to see a childhood hero of mine expecting to be blown away by him and I was !!  He played for three hours and had more energy than 99% of the people who came to see him.  He told genuine and gripping stories of John Lennon, George Harrison, Jimi Hendrix, Eric Clapton (all his mates) and also about his kids, why he wrote the songs he did and more.
I happened to go to the concert with my amazing wife (crushed when Paul played Maybe I'm Amazed sitting next to her !!)  I also was there with another best friend (who's my HR mentor) and his wife.  We were all geeked going in and even more so coming out !!
So, this next week at work, quit thinking the worst about those around you.  Instead, be amazed !!  Because, the truth is, the great humans around us are amazing !!