This seems to be a "bucket list" kind of year.  I was fortunate enough to be elected as part of the Membership Advisory Council (MAC) for SHRM.  I get to speak at SHRM National in Orlando this June !!  And then, there was this past week . . .
A few weeks ago, I was sitting at the Xavier University men's basketball game with my wife when I got an e-mail from the SHRM Government Affairs group asking me if I'd consider testifying at a Congressional House Committee.  I was very moved and humbled that I was asked in the first place. After I got over the rush of the moment, I had to consider if I should do it or not.
I believe in Advocacy by HR professionals and have done this at the State and Federal level for the past several years.  I think we forget that we live in a country where we are allowed to share our viewpoint and participate in our government.  It's somewhat intimidating, but I have found that the representatives and their staff are longing to hear from our community because they don't hear enough from practitioners.  They do hear from many lobbyists with various special interests, but they don't get our perspective nearly enough.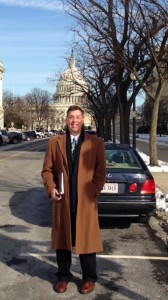 So, after clearing it with my incredible employer, I said, "Yes."  I went through an interview with staff from the Committee, and last Wednesday morning I was sitting in the Rayburn Building at a long, wooden table in front of a microphone, a timer with lights and my remarks about to testify on behalf of SHRM.  As Chairman Kline called on me with "Mr. Browne," I took a deep breath and began to share my testimony.  The questioning from the Representatives was heated at times.  I tried to represent my employer, SHRM and HR the best I could.  When it ended, I was relieved and still incredibly excited !!
Trust me when I say that I didn't take this experience lightly at all.  To be a citizen sitting in front of members of Congress is something I'll never forget.  This wasn't something where you had to side with political ideologies.  It was a chance to give a business perspective from an HR pro.  I hope that people can see that we are a BUSINESS voice !!
I also hope that SHRM, and our community as a whole, can see there are Sr. practitioners who are involved, are engaged and want to move us all forward.
Here is my challenge to all of HR . . . Make your voice heard !!
If it's in the context of your department, be heard.  If it's with your employees and your Executives, be heard.  If it's in an advocacy role at the local, State or Federal level, be heard.
A wise person told me once – If people don't hear from you, someone else WILL be heard !!
HR, your perspective matters.  Be confident in who you are and in what you do.  This is a chance for you to set the example that you want others to follow.  Being passive and hoping that things will change, or evolve, isn't effective.
By the way, as I walked out I asked if I could take my name tent.  The staff wondered why I'd want a piece of paper.  I told them that today mattered, at least to me.  I took it back and put it in my office so I can always remember when "Mr. Browne" went to Washington !!