You just had to know that I was going to use this title at some point . . . .
Next week thousands of HR pros will convene in Las Vegas for SHRM11 and there are people all over the profession with differing views about the event.  But, I tend to lean more toward Charlie Judy's viewpoint that it is a significant event for HR pros to attend.  The realization that we need to be continuously seeking professional development is a fact and not just something to comply with HRCI.
You see, if we don't continue to learn more and be effective in our knowledge – we lack relevance.  Remaining relevant in today's business environment is honestly our biggest challenge !!  You can cloak it in many different ways, but if we aren't relevant, we will cease to exist.
So, what can all of us do to combat this?  Go to conferences !!
Unfortunately, I can't attend SHRM11 and I am bummed because many of my friends from all over the country are going to attend and I am jealous.  However, I want to make sure that all of you also consider another great venue that is a viable option – the State SHRM Conferences !!
The "conferencing" opportunities after SHRM National are plentiful and I wanted to highlight a few for you to  consider:
The 2011 Wisconsin SHRM Conference happening 10/12/11 – 10/14/11 in Madison, Wisconsin.  They offer an incredible program with solid keynotes from Rich Horwath and Scott Christopher and are celebrating their 25th Anniversary as a State SHRM Conference !!
The 2011 Indiana State HR Conference on 8/29/11 – 8/31/11 in Indianapolis, Indiana features two great keynote as well – Steve Gilliland and Marcus Buckingham !!  The HR Florida State Conference & Expo also happens on 8/29/11 – 8/31/11 in Orlando, Florida.  Their keynotes include Tony Hseih, Lisa Ling and Daniel Pink !!
The 2011 Illinois HR Conference and Exposition will happen a week earlier on 8/22/11 – 8/23/11 in Chicago, Illinois.  The theme of HR Leaders: Inspire, Support and Challenge will be anchored by keynotes from Ryan Estis, Jason Lauritsen & Joe Gerstandt and also China Gorman.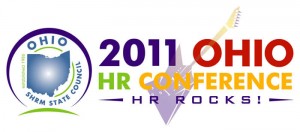 And I would be remiss if I didn't mention Ohio's conference – HR Rocks !!
You see, I'm the Chair of this year's Conference and I'm so excited I could pop !!  Our program has been certified for 17.25 HRCI credit hours with 9.25 hours being Strategic !!  The conference happens 9/21/11 – 9/23/11 at the Kalahari Resort in Sandusky, Ohio.  Our keynotes include Simon Bailey and China Gorman and our program features many of the thought leaders you follow in the world of Social Media !!
I hope you can attend these great conferences and I would LOVE to feature all of the great State SHRM Conferences that happen all across the county !!  We need to understand that there is one more INCREDIBLE benefit from attending these events.
HR gets more connected !!  We need to continue to do this intentionally because we are stronger together vs. trying to fight the good fight on our own.  So, I'd like to offer to all SHRM State Conference folks out there, get in touch with me so we can get further connected !!  It would ROCK !!