After returning from SHRM14, I was faced with the reality of a very full plate at work and at home.  I'm sure this is no different than all of the attendees as they made their way back to their non-conference lives.  It's very easy to jump back into the incredibly fast pace of life and have things seem overwhelming. Nothing ever seems to fall into place even for those who are phenomenal planners.  The reality of things moving in and out of each day means that you have to react and respond because people expect to be heard.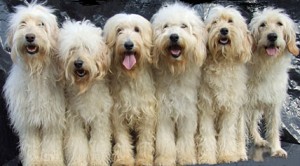 So, like most of us, instead of just going back to what I already had in front of me, I volunteered to watch our neighbor's dog while they went on vacation.  Normally, my great son watches the dog, but he was going to be in Atlanta, Georgia for a mission trip with his youth group.  Now, you have to understand that Piper is an extended part of our family.  We are very close to our neighbors and have known Piper since he was a puppy.  Did I mention that Piper is gigantic ??  I'm a big fan of large dogs, and he definitely fits the bill.  Piper is a Labradoodle, and he can easily put his head on the kitchen table just to check out what happens to be "available."
I used this opportunity to start my wellness program by walking Piper early each morning.  We went for it by walking 1 1/2 to 2 miles each day.  It has been magnificent !!
What in the world does this have to do with HR ??  Everything.
You see, I'm a person who is constantly on the go.  I am a person who says "Yes" all the time because I feel I have the capacity to take things on and I enjoy being full all the time.  In doing this, I rarely take time to reflect and clear my mind.  This isn't a good approach, but it is what I think everyone practices.  People are always bemoaning how busy they are, but we don't take steps to do anything about it.  We may go on vacation to break away, but even those trips are filled to the max to "enjoy" our time off.
Taking a walk allowed me to start the day unencumbered because Piper was the focus.  He knows how to start the day !!  First of all, he can't wait to see you.  As soon as you hit the door, he's excited that you showed up.  Secondly, he can't wait to start the day and be with you as you share a walk together.  Every day the same path is new to him.  He doesn't complain about ritual or pattern because it's never the same.  When he sees fellow dogs, he greets them and can't wait to talk to them regardless of who they are, where they live, how they look or how they act.
How would your HR role look if that's how you approached each day?  What if everything was new and exciting instead of mundane and repetitive?  What if EVERY single person mattered for who they are, what they do and what they bring to work each day?  What if you were so excited to see everyone each time to encountered them?
Clearing my head on these walks actually improved my perspective on people.  I'm going to keep walking every morning, even without Piper.  Having some time just to break the pace is healthy for all of us.  I hope that each of you find your own way to break out of the pace. Trust me it's worth the walk !!