I am slowly, and I mean slowly, coming down from my high state of euphoria I experienced at #SHRM14 !!  I really don't want it to end, but it will have to suffice as my HR peer fix until the next great event.
The entire event was a whirlwind of interactions at a level I hoped would occur.  To get jumped in the hallway outside the Exhibition Hall by Simone Carroll saying "Hello Steve !!" in a beautiful Australian accent followed by a hug to exchanging music, ideas and insights with the SHRM HRblog Squad, my time at the Conference was never dull.
I enjoyed the Keynotes for various reasons.  I don't expect them to "hit" or change HR because they are brought to the Conference to give it some "star" power. My fave was David Novak, CEO of Yum! Brands because he was Geeked about people in his business and I truly connected with his approach to HR – especially in the restaurant business.
I loved the concurrent sessions I saw with Jennifer McClure, Jason Lauritsen and Clint Swindall. Each of them had takeaways on how to do things like build the business case for HR and leadership (Jennifer), Become a Social Architect in HR (Jason) and how to become a Weekday Warrior (Clint).  Yes, I went to sessions to try to improve humans around me.  I just can't get enough of it to be honest !!
The Exhibit Hall rocked !! I loved the SHRM Store and the Volunteer Leaders lounge was a great place to rest and catch a snack with friends who give their time and efforts to SHRM at the Chapter and State Council level.
The event that sent me truly over the top was the opportunity to speak myself.  It was a rush to be opening the activities on Monday at 7:00am to a full room.  I am thankful that friends came to show support because I love seeing them all the time.  I was even more excited to see a room of unfamiliar faces (at least when we started).  I met HR peers from Uganda, Saudi Arabia, Denmark, Nigeria, Turkey, the Cayman Islands, Bermuda, Canada and India all in my session.  Having a chance to share HR from a different perspective and also reach folks from across the globe . . . . amazing !!
I think the attendees at my session weren't quite ready to be jacked up that early in the morning.  To be able to show HR people that you can have fun, mess with your employees and truly impact the business you work for seemed new to most there.  I thought everyone was a bit tentative to start, but by the end of the session people were laughing, smiling and learned what it's like to be Geeked about HR !!
I challenged the attendees to do something completely radical and say, "Hi !!" to all of the attendees at SHRM14 who weren't in my session for the rest of the week.  I told them I would check on them throughout the week to see how it was going.  Amazingly, they told me that others were wondering why they were greeting them.  I asked if that discouraged them, and they began to glow with excitement !!  They eagerly told me, "No, I keep saying 'Hi !!' to more folks now.  This is awesome !!"
You see, I think a lot of HR needs to be simplified.  People want to engage and be connected – but the difference is that WE have to be the ones to do it instead of expecting folks to just "get it."  One thing to start this is making your office fun.  At my session, I closed everything out by telling folks I was adding them to the HR Net (a free resource open to all HR folks) to keep them connected, and I gave away a lava lamp.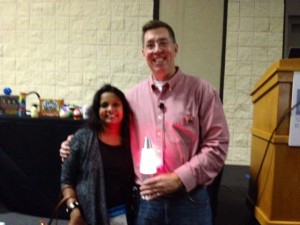 When I pulled the name, I stumbled.  It was a longer name and I didn't want to mispronounce it.  I got the name out and a wonderful, young lady quietly stood and said, "Yes, that is me. I won."  Meet Jaya from India !!
How cool is it that the 1st time I get to speak at SHRM National, I can plant a cool, hippie HR vibe in another country ??
You see HR – It's time for us to shine our light within our organizations, our profession and with each other.  Well, I'm geeked again just by writing this !!  I hope the Conference was fab for everyone who went – and I hope to see YOU at another great HR event sooner than later !!