Have you ever taken a personality assessment? As an HR practitioner, I've taken a ton of them. I enjoy doing it and the outcome is the same every time. I'm a fierce extrovert !! I don't even come close to the median of any extroversion scale. It's honestly how I've been ever since I was very young. There are more challenges to being extroverted than you would think. One of those is finding someone who will deal with you and how you're wired.
Meet my wife. She's taken those same assessments and we are exactly the opposite. I wouldn't call her a "fierce" introvert at all. I'd categorize her as a sound and grounded introvert which I find to be perfection. She caught my attention over a quarter of a century ago when she went way outside her comfort zone and asked me out !! Honestly, she took the first step to bring us together, and I've been thankful ever since.
Song #3 – Thank You by Led Zeppelin
I've always consider Led Zeppelin the quintessential rock band. There are few acts that I would classify as legendary, but Zeppelin qualifies. Many people are familiar with their hits, but few take in their whole catalog. One of the facets of the majority of my music collection is that I tend to own an artist's entire catalog of albums. You run the risk of finding a few clunkers when you do this, but you also get to see the entire spectrum of their work.
My favorite song of theirs came from Led Zeppelin II – their second album. It's a beautiful love song that you wouldn't expect. It doesn't reflect the massive, driving rock laced with  incredible vocals, lead guitar and crushing drums that capture the essence of Led Zeppelin.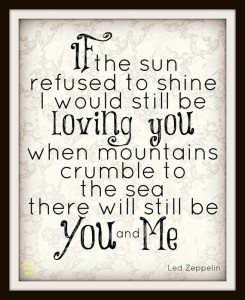 It's my favorite because the lyrics of the song describe the love I have for my wife. She's the one person on the planet who accepts me for who I am. That makes her the best partner I could have ever asked for. Now, mind you, I love her for who she is as well. We fill in the gaps in each other's strengths and that makes for an incredible bond. When I was fortunate enough to have Debbie say "Yes" and agree to marry me, I asked her if we could have this song be our first dance.
She loved the song, but felt that Led Zeppelin may be a bit of a stretch for those that came to our wedding. I reluctantly succumbed, and we ended up using a love song from 1989 – the year we wed. The Zeppelin song has lasted just like our marriage, and it will last forever. Here's why. Take a look at these lyrics and then click on the video and enjoy !!
"If the sun refused to shine, I would still be loving you.
When the mountains crumble to the sea, there will still be you and me."