I've really enjoyed participating in the 7Songs blog series. To be candid, it's impossible to get it down to seven single songs. I'm sure you could make a list like this fairly easily using different eras of music, different genres of artists and a myriad of different filters to compile a "best of" list.
The item that pulled all of these songs together for me can be summed up in one word – passion !! I am passionate about my choices and most people are very passionate about music. You may love one type of music and absolutely despise another. If you bring that up, you are sure to get arguments from others because they will defend their faves as well.
For me, there is only one band that embodies passion for me because every time they strike a chord on the guitar or belt out a crushing vocal, they bring it !!
#7 – Thunderstruck by AC/DC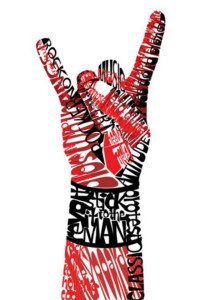 You can't help but banging your head and throwing your hands in the air the minute an AC/DC song starts. Thunderstruck epitomizes the essence of this
Aussie power group !! They made a career of songs built on three chords. Even though it's "simple" music, they make arenas erupt.
I had been a fan of AC/DC for years when Thunderstruck came out. They had been making rock anthems for years before MTV had videos. So, I also got to SEE them perform this, and I couldn't contain myself. The riff that Angus Young starts deftly moving up and down the frets of his guitar hooks you instantly. It's something that would turn into a performance tied to HR down the road.
When I was chair of the Ohio SHRM State Conference, the theme was HR Rocks !! (double exclamation points included) For those of you who know me double exclamation points are the norm when I write (even texts and e-mails) because they epitomize passion.
As chair, I pulled my committee aside and showed them my vision of the opening of the conference. I wanted a stage with a catwalk, flashing lights and Thunderstruck blaring overhead. I actually bought an Angus Young costume and dressed up like him to take the stage and loudly welcome everyone to the event.
When I did this, the attendees all had drum sticks that they could pound together to bring the noise to a triumphant crescendo !! By the time I reached the mic to yell out "Hello, Sandusky !! Are you ready to rock ??!!" they were already geeked to get the show started.
Passion is something that we too often suppress when it is something we should express. Being tentative may be safer, but it leads to regret because you miss out on what you wanted to do. I learned long ago what it felt like to work in an environment that sucked the soul out of you. When I left that company, I vowed that my passions would never be suppressed again. . . . And they haven't since !!
So, I encourage you to get the entire AC/DC catalog. It's great to rip off the lid of the day and just flat rock !!! Find your 7Songs and keep them on a playlist to remind you that you were created to be vibrant, creative people. It's who you're supposed to be.
Let me help you get started – hands in air, head banging, cue the riff . . .