This past weekend, some friends of mine and I went to a local pub.  Our intention was just to catch up and share a few adult beverages.  When I got there, my friends were all excited because the pub was doing a music trivia contest.  A DJ played a snippet of a song and your team had to guess the song and the artist.
Now, for those of you who don't know me very well, I'm sort of a music freak !!  I have music playing constantly.  In the house, in the car, while I'm doing yardwork and ESPECIALLY in my office. (We'll get to this in a bit . . .)
My friends knew that I was really into music, so we jumped in eventhough we missed the first round.  By the end of the contest we moved from missing the first round to placing 5th out of 20 teams.  To say I was geeked was an understatement !!
The true highlight of the night though came during The Beatles "speed round."  Ten songs with just a small bit played and you had to guess.  During this round, more than the others, the patrons of the bar sang every song out loud.  It didn't matter that we were competing against one another.  The music brought everyone together.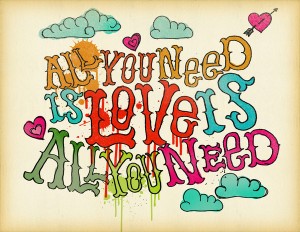 What does this have to do with HR ??  EVERYTHING !!
To often in the workplace, we focus on what pulls us apart.  In fact, some people in organizations count on this fact because if they can try to get people to see what bothers them, then you won't even attempt to look at what draws you together.
To be honest, this is draining and defeating.  To constantly be at odds with others within your organization, and possibly in your own department, is detrimental and leads to discord and other nasty things.
What things do you have around you that bring folks together?  Is it music?  It is another cultural tie that people rally around?
Remember, there will always be folks who won't join in to the ties that bind others together.  The trick is to move toward the ties and let them be.  In time, they will either not like the positive direction you're going, or you can sit with them and say, "We'd love to have you be a part of this." And show them what they're missing.
I don't apologize for the music that emenates from my office.  In fact, I keep it going even if I'm not in there to enjoy it.  HR has the responsibility to set the constructive culture of a company and show how people can bring their indiviudal nuances and strength to make the "song" even better !!
The Beatles kept it simple in their classic, "All You Need Is Love."  The question you have to ask yourself this week is . . . What do we need ???
Image courtesy of Society 6