Today is a first for Everyday People !!  I'm away on vacation with my amazing family, so I decided to have a guest post.  This is the first guest post ever for my blog, so I only have the BEST person to break this barrier – Dr. Daniel Crosby, PhD !!
Daniel is a dear friend and an incredible resource.  He is doing great work with Suited Jobs that you MUST check out !!   Suited is a tool that provides fit scores for
your company culture, job and provides suggestions for work that might better
suit you. Now, for the good Dr. !!
**********************************************************************************
One-sided relationships never work. This maxim sounds true, yet too many of us think that it doesn't apply to our jobs.
Being highly committed to your job not only helps your employer, it helps you. Researchers have pointed out several benefits:
You'll go above and beyond to be innovative and creative in your work.
You'll be more motivated.
You'll take less stress home with you.
You'll be more likely to be recognized for your work.
Take an honest look at your relationship with your job. When was the last time you did something for your job you didn't have to do? When was the last time you went out of your way for your job and didn't complain? When was the last time you woke up excited to spend time with your job?
If the fire is no longer burning, just take a lesson from James Ziemer and find reasons to be committed to your work.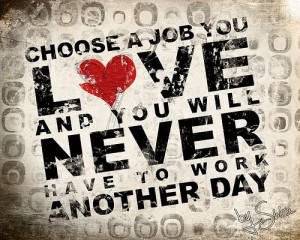 James Ziemer, the former CEO of Harley-Davidson, started with the company in 1969. Only he didn't start as an executive. He entered the organization as a lowly freight elevator operator. In this job, he was responsible for hauling motorcycle equipment from floor to floor. Only he wasn't hauling just any old parts. To Ziemer, they were the crown jewels of the company.  In the years that followed, Ziemer became familiar with the operations of other parts of the business; he later worked in the manufacturing, engineering, accounting, parts and accessories, and finance departments. All of these experiences, in one way or another, would prove instrumental as he took on an executive role. Ziemer's early experiences with Harley-Davidson were inextricable from the perspective he held while sitting at the top of the company.
Remember Ziemer's story when thinking about your own work day. This new perspective can change how you look at mundane tasks and help to rekindle the old flame. Think of your job tasks as paving the way to something bigger and better.
Making cold calls? Sales skills will come in handy when negotiating your first large-scale acquisition.
Crunching numbers? You'll need that skill when calculating your own salary.
Remember to look at the big picture. You might not be sitting pretty with your trophy job at the moment, but you'll be proving to yourself that you are ready for more than just another quick Hollywood-type fling.