I have some questions for you. Do you enjoy being in your job? Is it what you expected? Are you engaged yourself?
These are the types of questions you would use to have a conversation with an employee to help them gauge whether they are enjoying their work or not. In HR we may do this as part of coaching or it could come up in an employee review. It seems like a natural occurrence when we are trying to assist others, but do we ask them of ourselves?
In HR we are very comfortable and willing to help other employees, but we rarely take care of ourselves. We think that career management is for everyone else. To be honest, I've fallen in to this trap during periods throughout my career. It's easy to do. We're willing to tell people to be reflective and we may even assist them in finding different roles. This is a great facet of our job and something that most enjoy.
I get concerned that HR people don't manage their own careers. I get the sense that many (not all) trudge through their function on a daily basis. There's a more prevalent vibe that we "tolerate" what we do instead of thriving in it with passion. It caught me when I was shuffling through my endless, and constant, stream of music this weekend when I was enjoying "Could Have Been Me" by The Struts. When you get to the chorus of this rocking song you hear:
"I wanna live better days, Never look back and say, Could have been me, It could have been me."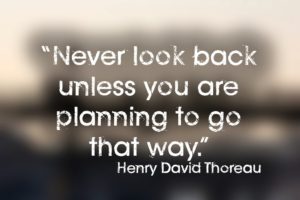 That hit me because I don't want to ever be the person who has regrets about what could have been in the past. I don't want to be in a situation or job where I have more "what if's" than I do accomplishments. When I started working, I never had these types of thoughts because the expectation of the workplace was more that you went to work out of need or obligation. The social norm was that you worked because you were supposed to.
I don't look back and have poor feelings about some of my jobs, but I wish someone would have encouraged me to own what I do and where I do it. I have to say that when I finally started to do this, I began to truly enjoy HR and all it has to offer. It changed how I practiced and it drove me to make sure that others in my profession step back as well.
When we are engaged in what we do, we can model it for others. If HR isn't personally engaged, then they can't expect others to be engaged. People will replicate the behavior they see more than they will in responding to some program you throw together.
I love what I do and I love the company where I get to practice HR. It doesn't stop me from managing my career. Far from it. I'm always looking at what I do and how I can impact the organization and our people. It has allowed me to look ahead and never look back.
This week I encourage you to reflect, refuse to just trudge along and move forward. You owe it to yourself, your company and to those you impact !!