This past weekend my amazing daughter accomplished something 21 years in the making !! (if you start from Kindergarten) She earned her Doctorate of Occupational Therapy from the University of Indianapolis. To say that my wife and I are proud would be a gross understatement.
I know there are many families who are celebrating the graduations of their children from high schools and colleges all over the world. It's a milestone that still gives me chills to see people reach any level of education. There are countless hours of studying, research papers, projects and presentations. Each one seems daunting at the time they're due for both the student and their parents. So, I want to wish a hearty congratulations for everyone celebrating graduations this Spring and Summer. Make sure to enjoy them.
Now, back to my daughter Melanie . . .
There were 52 people in her class who earned their Doctorate this weekend, and they are all part of the inaugural doctoral class at UIndy. There were many proud parents, spouses, partners, children and extended family. It was wonderful because we don't have enough times in our days where there is only positive energy. You didn't hear one complaint. Instead, you could hear an audible sigh of relief from everyone involved.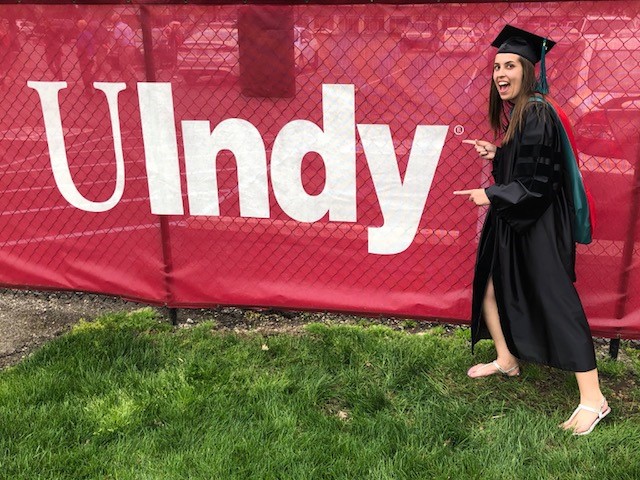 We have been so fortunate over the academic portion of Melanie's life. She has been at the top of her class ever since she began school. She never faltered and pressed herself to succeed. My wife and I expected both of our kids to perform, but left it to them to do the work and get the results they've earned. She continued excelling throughout high school, undergraduate and throughout her graduate studies. She ended up with a 3.93 GPA out of 4.00 in her doctoral program. (I know, slacker. She left .07 on the table !!)
More than any academic achievement, we're proud of who our daughter is as a young woman. She is someone who has a strong faith and a heart for others. She has served people in many different arenas around the world including Ghana and many inner cities throughout the U.S. She attracts others like a magnet and is a close friend to many. You'll find her to be selfless and yet self-aware and confident. She's also fiercely funny and a joy to be around. My wife and I often heard from teachers, friends and their families how much they enjoy having Melanie around.
Remember how I said I was proud ??
We're most impressed by what a great human Melanie has become. She is positive and does her best to bring life and light to all she encounters. You can't ask much more than that from your children.
Now, like all of those other graduates, she steps out to take her next step. The difference this time is that she won't be going to another school. She'll soon be sitting for her boards and then will enter the workforce somewhere. I'm geeked that she'll be in a field where she's taking care of humans because that is what she was made to do.
There were many tears shed and they glistened on my face at every event I attended. It's hard to believe that 24 plus years ago I held this beautiful little girl born on Christmas Day. And, from now on, I get to call her Dr.
I can assure you it will never get old !!