I don't consider myself a "typical" male. I have many interests and enjoy all of them. I can talk sports with the best of them, but I don't limit myself to sports alone. I love engaging in conversations about politics, religion, music, travel, random trivia and art. I LOVE art in all its forms. Just like most, I have certain preferences and not everything called "art" seems very artistic to me. But, that is the beauty of art. People can take it in and then decide what they like or what they detest. It doesn't make a piece any more or less art. It allows for a wide variety of perspectives, emotions and opinions.
Lately, I have truly enjoyed watching Genius: Picasso on National Geographic. The series is capturing the eclectic life of Pablo Picasso. He chose to live life to its fullest and was quite a bohemian. His passion to paint consumed him, and it drove him to break more and more boundaries of what was considered to be how art should be expressed. There seems to have been many lives left in his wake as well as many relationships that fueled his passion along the way. His ego never was in doubt, but that meant that few people were very close to him. They were drawn to him because of his fire and charisma, but in the end, he put himself and his art before anything else.
Picasso was no different than us. We all have flaws, and some of them may be detrimental. What does make him different than most was that his drive to never settle runs contrary to how most people experience life. Settling gives us the illusion of comfort. What we miss in seeking a level of comfort is that we end up stagnate and immobile.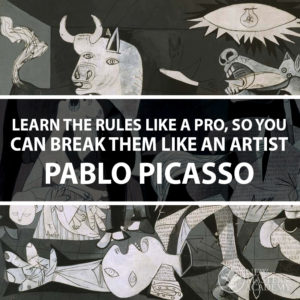 One of the reoccurring statements in the TV series is that when pressed about "rules," Picasso defiantly shouts, "I don't follow rules !!" This stance intrigues me because much of what is considered traditional HR is built upon the existence of a myriad of rules. In fact, and I know this may be an over generalization, I think most HR people feel they thrive in creating and enforcing rules. There seems to be an allure to make sure that all employees "fit" inside neat, confined systems. Personally, it baffles me.
How can limiting people help them? Please note that I support ideas like structure and framework in the workplace, but I feel that rules constrict. Rules are rarely applied consistently even though we say they are. I think our intentions are good, but our practice is inconsistent. It just is.
I believe in breaking rules and always have. In the show, Picasso says he wants to smash the rules artists were following. He wanted to set a new direction and path. Whenever I mention this to others in HR, I see the gleam in people's eyes. They want to experience new ways and paths, but the pull of stability often dims the spark that is ignited.
How can we move past the spark? How can we be a profession that frees people to perform, express their creativity and allow them to contribute? The quote listed above is the key. Learn the rules that exist. Know the environment and situation you work within. Then . . . "break them like an artist."
This coming week be willing to act like Picasso. See what is around you, but refuse to settle for the norms. Quit adding to the stagnation. Instead, be creative yourself to see what can be broken and redone in a new and imaginative way. This week become the artist in HR you were meant to be !!