This post represents quite a few milestones !! It's a New Year, it's my birthday and it's the 10-year anniversary of my blog. Hard to grasp that all of these events convened at the same time. It also is a great example of what I wanted to "talk" about this week.
You do tend to reflect more as you get older. I never thought that would be the case, but it happens because I think you realize your time on this planet is on the downward side of the curve. Please don't think I'm being pessimistic because that rarely occurs in how I live and see life. I'm being realistic though because I'm much closer to my sixth decade roaming the earth than my first !!
So many people have sentiments about escaping 2020. I am not one of those people. Yes, it was a tough year for most everyone I know including me. The loss of my father and my boss will alter my life. There is no doubt about it. I can't adequately capture the myriad of events that happened around the world that seem that we're far more unsettled and divided than we are cohesive.
As I reflect on getting the chance to celebrate another year of life, I've come to realize something is so true that I never grasped until late last year. My brother was with me and our mom as our dad was passing. As we were discussing all that was happening, a well-intentioned surgeon was telling us he was sure he could perform a procedure which may have a sliver of success for my dad. We discussed this as a group, and my brother, a doctor himself, shared a piece of advice he received from his Chief Nursing Officer. She told him, "Mark, you need to remember that we see people for only a few moments of their life."
That struck me. It's true. We act on very little information with very little time in each other's lives. When you step back to look at it, the majority of how we live, what we believe, and how we view the world is made up of a series of very small moments. For some reason, our brain takes these various interactions and pulls them together to make thoughts, opinions and perspectives.
We need to keep this in mind because it seems that we are acting on these small moments to make massive assumptions, judgments, and movements. We tend to expand these encounters to make our feelings and attitudes absolute. We fill in the pieces on people without even thinking about asking them for any details or context. This concrete approach leads to putting people into compartments that validate our personal view and outlook on life . . . and they may be very skewed and we don't even see it happening.
The surgeon I mentioned earlier was trying to do his best based on his talent, skills, and experience to help our dad. Fortunately, my brother remembered the advice he was given and called his colleagues to explain the situation and get input from others. It confirmed his suspicion that the chances of my dad recovering were remote. So, we thanked the surgeon and chose not to proceed. The surgeon was indignant about our decision. He was very confident in his abilities. I'm sure he was talented, but he didn't realize that he had little knowledge of who my dad was and what his wishes were if he were in a life-ending circumstance. He was only in my dad's life for a moment but didn't recognize that.
As we all take our next trip around the sun, I'd ask you all to join me in stepping back to acknowledge that we are in each other's lives for mere moments. Hopefully, you have family and friends who get to experience more moments than others and that is positive. I know that may not be the case with family or friends, but as I mentioned earlier, I'm an eternal optimist.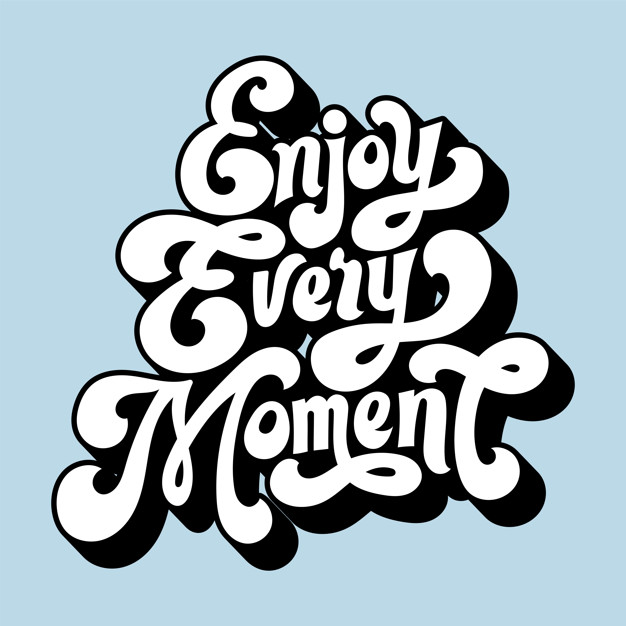 I don't want to overlook any opportunity I have to be in a moment with others. Not one. I want every person I meet to know they matter and that I would rather enjoy our time together regardless of the circumstance. You never know. The one time you are with another person may be the ONLY time you're together.
Why wouldn't you take that brief time to make it the best possible moment you could? You need to remember that you will be remembered by whomever you encounter – every. time. You have the choice to make that a positive experience. I would encourage you to embrace that !!
I typically write to an audience of HR pros because I feel we can always improve how we work with others. I believe this approach of enjoying every moment should be the baseline for great human resources. If you choose to adopt this, I guarantee that you will enjoy not only the work you do but (more importantly) the fabulous people around you.
Enjoying every moment with all people is an even bigger expectation, but I think it's needed now more than ever. If we would cherish the moments we have with each other, I think we would appreciate people as the wonderful, creative, and humorous works in progress we ALL are. I know there will continue to be trials, disappointments and failures. However, I can be assured that I will have people who will be doing life with me and the moments we share together will help us work through whatever we're facing.
Start your year with a positive outlook which will take you forward through the years to come. Enjoy every moment !!