If you've been reading my blog for any time, you know that I'm sort of an HR hippie. I love tie-dye clothes, psychedelic classic rock and  . . . lava lamps. Now, you need to understand that this isn't a "new" phase for me. These things have been an interest of mine for decades. The difference that exists is that those interests are also something that defines me. I surround myself with these components in my work space, and I am more than willing to share how they keep me at ease.
Over the past few years, I've taken the lava lamp mantra out with me during presentations at HR conferences. It's not uncommon for me to have a lava lamp going while I'm speaking. Most of the time, I give this great piece of lighting away to an attendee. My only requirement if someone wins a lava lamp is that they actually use it in their office. They need to take it to work, turn it on and send me a picture of it in action. What's so cool about this is that everyone who has won a lava lamp has added it to their office and has sent me a picture as evidence.
Now, the coolest thing is happening in workplaces across the globe. HR peers have been getting their own lava lamps, taking pictures and letting me know about it on Facebook, Linked In and Twitter !! It is surreal. What gets me geeked is what they say for reasons to get a floating masterpiece themselves. The descriptions range from just wanting to have something colorful in their office to stating that it was a reminder to have a positive outlook about HR and towards employees.
The more pictures I've received made me think about why this simple object is having such an impact. You see, I think HR people are often tired and on the edge of being burned out. The constant push and pull of interactions with people can drain you. This doesn't have to be the case, but I get it because it's something that is a constant force that pushes against me as well.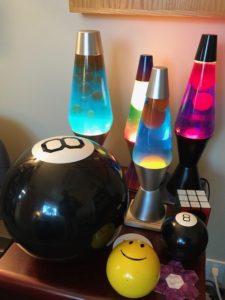 Since that is the case, I recommend that you "follow the flow" and surround yourself with items that give you a sense of serenity and calmness. I'm sure you have interests that could give you some much needed peace during your hectic day. You need to take care of yourself in the midst of taking care of others. There are far too many folks in HR who skip taking care of themselves. This is a simple release and a small respite. Remember, it's small things that make a difference far more than massive shifts.
Here's a picture from my office. When things get pressured and hectic, I look to my right and see the blobs of lava serenely moving up and down and I exhale. For me it's perfection. (The Magic 8 Balls are a bonus too, but that's a post for a different time.)
This week take a second and reflect to see if you have something in your work space that provides a healthy diversion to recalibrate your day. It's simple to do. I, of course, would highly recommend getting your own lava lamp. In this way we can change HR, and the workplace, one lava lamp at a time !!