Recently, it seems like Linked In has unlocked some vault of invitations. I'm not complaining, but it's a bit daunting to get a constant stream of requests to connect. I'm not an "open networker", but I am very comfortable in making connections. I have a slightly different perspective than most though.
Networking seems to be a regular subject for bloggers (including myself). I write about the topic because I don't see many people network on an on-going basis. Most folks seem to "network" when they're in the need of a job, and once they land their next gig, they slip back into professional isolation. I don't understand that. How can people matter when you have a need, but once that need is met they don't?
I view networking and making connections as a business skill. Having connections gives you the ability to make your company thrive through learning new methods, information and resources that you may not have known about. We tend to work within our four walls and barely lift our head during the day. I know it feels right, and it gets work accomplished. But,  what if there's a better way?
We need to get past the thought that meeting and connecting with others is a waste of time or a hindrance to "real work." It's just not true. So, I have a suggestion for you to consider in making networking effective and fulfilling.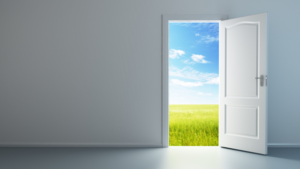 Be a door opener.
What does this entail? It means that connections don't have to end when you meet with someone or accept their invitation on Linked In. You can take a next step and connect them with another person.
(Quick disclaimers – I understand that we all have a finite amount of time, focus and attention. Not every connection is going to lead to something long-term. Also, I'm not too keen on Linked In becoming the new salesperson's cold call, but that's for another time. Let's continue . . .)
Someone reached out to you at one time to make a connection on purpose. There may have been several factors that led to that connection occurring, but they took the first step. So, if someone did that for you, why wouldn't you open the door to someone else to make that next connection?
Here's an example. When I meet someone who is in transition, I let them know that if I'm connected to someone in a company they're trying to join, I'd be glad to reach out and drop my connection a note on their behalf. I'd open a door. I believe that good people should have great roles in great companies. I rest on the belief that opening these doors will not only help people, but it will also improve companies in the long run.
This is worth my time and it's my personal choice to do this. The person seeking a job still needs to do the work of interviewing and landing the job. However, opening a door may be the one thing they can't do solely on their own.
Taking this approach doesn't only have to work with job seekers. I often meet with vendors who I know that I probably won't use at the company where I work. However, I feel it matters to meet them because I may know someone else who could use them. If they can grow their business from a connection that I made, then people succeed. That's always positive !!
This week change your approach to connecting and networking. Refuse to let connections stop with you. Instead, be courageous and connect them to at least one more person down the line. You never know, you may be making a connection for a future teacher, salesperson, entrepreneur, CEO or HR professional. Going forward – open doors.