Last year, my wife and I traveled to Houston, Texas. It was our first time there and I was speaking to an HR team from a construction firm. It was a small event in a cool, industrial warehouse that was converted into a meeting space. We had a great time and got solid recommendations of where to go and where to eat from the local folks. We gathered all our belongings and traveled less than a mile to our hotel. We added a few days of PTO to extend our stay and visit the city.
As we wheeled our suitcases down the hall, we turned the corner and I heard a voice jubilantly exclaim – "Welcome to my hotel !!"
I perked up immediately and sauntered up to the hotel check-in counter when the clerk cheerfully said, "Welcome to my hotel. I'm Yolanda. Are you here to check in?" I was floored by her exuberance and replied, "Why, yes we are !!" My wife rolled her eyes a bit and whispered, "That's what she's told to say," and I'm sure she was. That didn't deter my excitement.
Yolanda went on to tell us about the hotel's amenities and offered to be available for us whenever we needed it. I was so geeked by her approach and thought she went above and beyond in showing her hospitality. My wife and I went out to be tourists and as we strolled back into the lobby hours later, we heard Yolanda say, "Hi there Mr. and Mrs. Browne !! How was your time out in my city?" I was giddy once again. "We had a great time Yolanda !! Thanks for asking." One thing to note – The lobby was teeming with people moving back and forth involved in various things, and yet Yolanda took the time to check on us in the midst of this hurried activity.
On the day we were going to leave to fly back to Ohio three days later, I was having problems getting our boarding passes to load on my phone. I decided to go down to the lobby and try out the "business center." It didn't work because I'm sure it's overused. I decided to go to the front desk and ask for help and I heard, "Hello, Mr. Browne. Can I help you?" You guessed it. Yolanda was manning her post yet again. She was so helpful and we were able to get checked into our flight and print our boarding passes.
While I was spending more time with her, I was filled with curiosity. I asked her about her approach and her joy toward the guests of the hotel. She brimmed with delight and shared she had been a front desk clerk for 20 years and she couldn't be more proud of the work she did and the place she worked. I told her I was in HR and I was so moved by our experience and I knew she offered this same level of engagement and service to everyone she encountered.
This made such an impression on me that I incorporated our experience with her in one of the presentations I give at conferences and I end by asking – "Is this how YOU view your job in HR ??" The response is a mix of "not really" or "I wish I did."
I first used the story while speaking at the SHRM Annual Conference in New Orleans in 2022. After the presentation, someone came up to me at the front of the stage and pulled me to the side. "Hi, my name is Kimberly. Did you stay at the Embassy Suites while you were in Houston?" I told her I did and then she floored me.
"I work with Yolanda !! My team and I heard your story and we've been texting her during your speech to tell her that you were bursting with elation as you told this room filled with thousands of people all about her." I burst into tears. I couldn't believe it. We hugged and I asked Kimberly to tell Yolanda thank you for letting me share our time with her with others.
A few weeks passed, and Kimberly sent me a picture through Linked In. Here's what I received. That's Kimberly on the left and Yolanda on the right.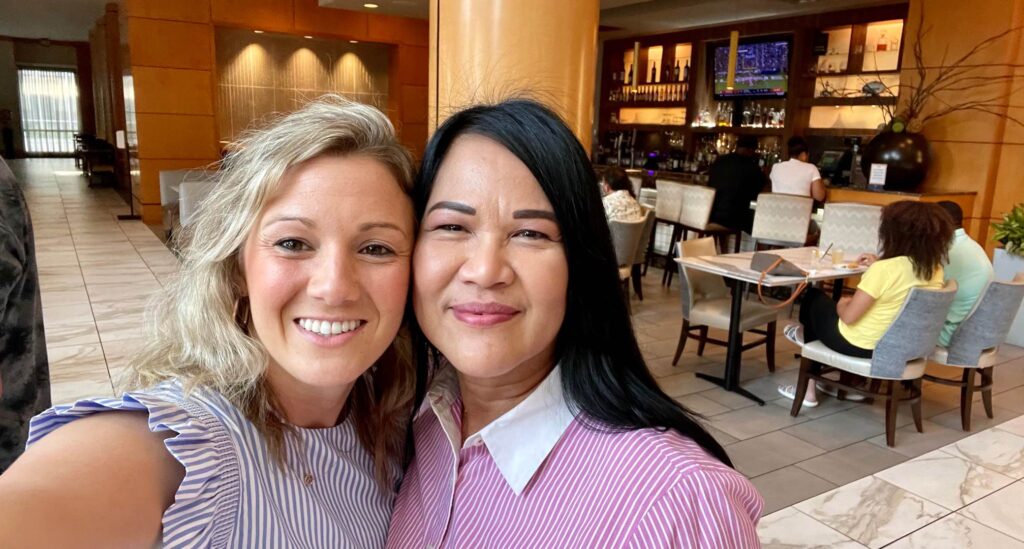 I couldn't believe it !! I added this picture at the end of my presentation and have been fortunate to share it many more times. At SHRM23 this year in Las Vegas, I shared about Yolanda again, and after the presentation, as I was signing books at the SHRM bookstore, another person approached me. "Hi there. I'm Jamie and I work with Yolanda. Thank you so much for continuing to share about her. I wanted to get her one of your books so she had a note from you." I started weeping again. I couldn't grasp what continued to happen.
This past week I spoke at the HRUnite! conference in Frankenmuth, Michigan. It was an amazing smaller HR conference which was more intimate than others I've been fortunate to speak at. After I presented, I received a note from Kimberly through Linked In. She said, "I thought you'd like to see this . . ."
I read the post from Avion Hospitality and the tears began to flow again. You see, Yolanda was recognized at her national conference. They showed me speaking on the stage using the closing slide I've been using showing the picture of Kimberly and Yolanda. They said –
"For the second year in a row, Yolanda Johnson was highlighted at the National Society for Human Resource Conference and shown on stage as an example of finding a company and career you love. Yolanda is Guest Services Manager at Embassy Suites Energy Corridor and clearly had a positive impact on this guest. Congratulations, Yolanda, on succeeding in your quest to welcome every guest and make them feel like family. We should all be so lucky to encounter your energy and enjoy our work as much as you."
I left a comment on the post and the Embassy Suites account wrote me back. Yolanda's story just keeps going on and on.
So, I'll ask again. Is this how you view what YOU do? If not, why not? Yolanda has chosen to bring her whole being to all she does and her story is now touching people around the globe. May we all learn from her and change how we view our jobs. You never know who will tell your story to others !!