This past week I hope you felt a shift in the time warp continuum in the HR universe !!  Over 200 people gathered at the incredible Rhinegeist Brewery for the beginning of a new movement – DisruptHR !!  I was fortunate to work with Chris Ostoich, from BlackbookHR, and Jennifer McClure, from Unbridled Talent, in making this groundbreaking event come to life.
The employees from BlackbookHR and the sponsors we had made the event literally seamless and "set the stage" for what erupted.  13 speakers from a variety of backgrounds and companies took the mic to give their presentation in a way that was truly new to the normally conservative Cincinnati.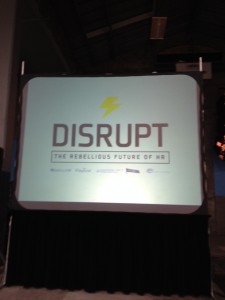 To be a presenter, you were given five minutes and 20 slides which automatically transitioned every 15 seconds.  Even though I've given many presentations, I never had to compress everything into that tight of a time frame.
The rules were cool because the audience was encouraged to be supportive of the brave souls who stood in between the two gigantic screens that seemed to be racing as fast as they could !!  The presentations ROCKED !!  The styles ranged from a more traditional feel to complete presentations with pictures only and no words.  People were much more relaxed and felt at ease after Chris became the first martyr speaker to take the stage.
Now, I know that Ignite talks, TED talks and Unconferences may be the "norm" in other cities around the globe, but DisruptHR was truly a pioneering effort !!  It's not often that you can be on the ground floor of a new movement and direction for HR.
There were some key observations that came from the night:
There are MANY more voices in HR that we need to pay attention to and get to know.  It was exciting to meet new folks and hear their perspectives.  I think we get too narrow too quickly to follow certain people.  This isn't being critical – it's a call to open our horizons and make sure we continue to take new voices in.
There are TONS of HR people who aren't connected to the greater HR community !!  There were so many people who came to DisruptHR that aren't normally at other HR events.  What a great opportunity !!  This forum drew a new group out to connect and get engaged.  So cool to get a chance to meet more HR people !!  Seriously.  I am geeked whenever I can meet new HR people !!
People are wanting to hear new messages in a new way !! We can't continue to think massive conferences that take days away from the office as well as immense amounts of training/traveling dollars are the way to reach people.  One night, in a brewery  . . . for FREE and people flocked to be a part of it.  We need to change our models if we truly want to reach HR people where THEY are vs. where we expect them to be.
The coolest thing about DisruptHR wasn't its initial success.  It was the fact that it's only beginning !!  This was just the inaugural event.  Now it's going to grow to other cities and to other venues.  So, be on the lookout !!
Get ready to attend, or even better, get ready to present !!  In the end, I hope ALL of you are disruptive from now on in HR !!
Here's a little taste to get you hooked !!