My post title is missing its normal, and grammatically incorrect, double exclamation points ( !! ) for a reason this week.  I had the most amazing experience and just had to share it with you !! (oops, there they are)
In my role at LaRosa's, I get to do some pretty amazing things as an HR professional.  My job is broad, deep and strategic.  It's also very hands on.  You see our goal at LaRosa's is to Reach Out and Make Smiles in all we do with our guests and our Team Members. We started this "radical" new recognition program this year, and this week I was floored by how amazing something so simple can be.
You see, we recognize people on their anniversary whenever they hit a 5-year interval. That may seem like a long timeframe for a restaurant business, but this year alone we've recognized a delivery driver who's been with us 15 years, a server who's been with us 20 years and even a Shipping Supervisor at our manufacturing plant who's been with us 40 years !! The tenure at our company is phenomenal.  In fact, I'll have been with the company 7 years this November and I'm a "newbie" !!
The radical part of our program is that I meet with the Team Member on their shift when they work.  You see we're open 7 days a week and are open from 11:00am to 11:00pm. Our team members may work weekend nights only – and that's fantastic !! We used to make all folks who celebrated an anniversary come to a big dinner once a year.  The event was nice, but we made people fit our schedule instead of us meeting theirs. This simple shift has made all the difference in the world !!
This week proved that more than ever !! A person celebrating a 5-year anniversary receives a gift card, a note from our owners and two Smiley faced cookies to thank them for helping us Reach Out and Make Smiles. (We add-on balloons and trays of cookies for folks who hit 10 years or higher.)  I was taking the gift bag out to see Richie for his 5-year anniversary.
When I arrived at our pizzeria, the manager greeted me and I said, "I'm here to see Richie."  He said, "I know. He's right over there."  A young man was standing with his back to me folding small pizza boxes.  I called out his name, but he didn't acknowledge me or turn around. Then a gentleman standing next to Richie in a flannel shirt, glasses and gray hair pulled into a pony tail that went down to the middle of his back reached out his hand and said, "Hi there.  I'm Richie's Dad."  I noticed that Richie was "talking" to himself but wasn't very coherent.  His Dad gently touched his arm and said, "Richie, someone's here to see you." Richie turned around and looked straight through me without really seeing me.  He kept talking.
Richie has profound autism.  I didn't know that before going out to the store.  Here's a young man who's been coming to work for us for 5-years to fold pizza boxes.  I beamed !! "Richie, I wanted to thank you for your time with us at LaRosa's !! What you do is so great and here's a little something for you." I reached into the bag and pulled out the cookies. "Now, these are for you and not for your Dad. (hoping for a laugh – nothing). Please know that you help us Reach Out and Make Smiles."  His Dad then gently grabbed Richie's arm and he said, "Tell Steve thank you Richie."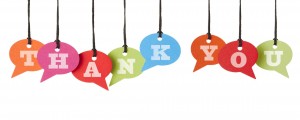 He stopped his chatter, looked at me clearly and quietly said, "Thank You." He immediately started his chatter again and went back to his boxes because he loves his job !! His Dad broke through one more time and asked Richie to stop for a second and take a picture with me.  We stood together and I put my arm around him.  His Dad said, "Smile !!" Richie had another moment of clarity, smiled, the picture snapped, and back to work he went.
We keep thinking that everything in recognition has to be on a grand scale when that's just not the case.  HR works incessantly to craft these incredible programs with thousands of dollars and numerous gift levels without ever thinking about getting to people directly.
Try this instead.  Meet people where THEY are and when THEY work !!  Thank them for what THEY do for your company.  It was a lesson we overlooked for too long.  But now, we get to see genuine recognition the way it was always meant to be !!