Something has been bothering me for some time now.  When did we realize that we have generations in the workplace?  Haven't we ALWAYS had people from various generations in the workplace?
It truly is disappointing that we have taken to labeling people due to when they happen to have been born.  For instance, technically by my birth year, I am at the tail end of the Baby Boomers.  I more strongly identify with Generation X personally. But, I would have to say that, I have a touch of Millennial and whatever the newest generation is being called in me as well.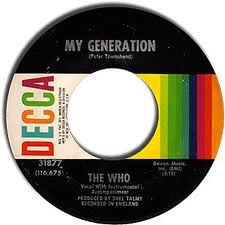 Any time I hear someone in HR bemoan the perceived weaknesses and challenges of a generation in HR presentations or on blogs, I hear The Who and their epic song, My Generation.
Roger Daltrey belts out " People try to put us down . . . Just because we get around . . . Things they do look awful c-c-cold . . . Hope I die before I get old."
The lyrics are indicative of how I think EVERY generation feels when they are shoved into a stereotype so that others can "deal" with them.  Tell me how this enhances a workplace?
I give a presentation where I bring out a vinyl album, a cassette tape, a CD and my iPod – all of the Beatles White album. (Didn't ignore the immortal 8-Track, just didn't have one anymore)  I ask a younger person to tell me what the LP is and the answers range from frisbee, to plate, to tray. It's fun to see how things have changed.  What hasn't changed though is the message !!  You see each form of music is just what each generation used to capture it, but the songs are still magnificent in each medium.  The same is true about people.  It's just that WE need to look at it differently !!
It saddens me that HR even considers labeling people when we fiercely fight to not do this in every other aspect of our job.  I know Boomers who are more hip than Millennials and Gen X'ers that should have grown up at the turn of the 20th century.
Let's do this instead . . .
We should value the diverse experience, culture, background and age of everyone we work with.  Learn who they are as people first versus categorizing them into some box that we think makes it convenient.  Quit assuming the worst of people and accentuate their strengths instead !!  People who know that you value who they are will automatically be engaged because the focus is on THEM and not their generation.
We work with a tapestry of extremely diverse people who bring an incredible breadth and depth of humanity to work everyday.  Any time that HR narrows this, we only lose out.  Refuse to be narrow !! Go against the norm and dive into the myriad of generations around you.